Matt Damon Jokes About 'Toilet Strike,' Then Things Get Real With The Water.org Co-Founder
This post was originally produced for Forbes.
Three years ago, using a fake press conference posted on YouTube, in a humorous effort to raise money and attention for clean water and sanitation, Matt Damon launched a "toilet strike," promising not to go to the bathroom "until everyone has access to clean water and sanitation."
As part of the Sundance Film Festival, Water.org cofounders Matt Damon and Gary White held a real press conference with Stella Artois executive Todd Allen. This gave me an opportunity to ask Damon why he is so passionate about water issues.
Damon responded, " I have four daughters. It comes at me emotionally from a lot of different angles. I think when you start having kids it is hard not to see other children as your own. "
He went on to explain that Bono initially got him interested about ten years ago in by taking him a trip ago to help him with his work, believing that if he simply showed Damon what extreme poverty looks like, Damon would have no choice but to engage. "He rightly assumed that if he stuck me in extreme situations with extreme poverty my life would change and that is exactly what happened," he says.
" I saw that I could have an impact. "
He related the story of a teenage girl in rural Zambia with whom he walked for a mile to the nearest source of water. As he visited with her, he asked about her plans for the future. She said she wanted to leave her village to become a nurse. "I realized it was like when Ben Affleck and I were in high school and we said, 'We're going to New York to become actors.'" He began to appreciate that people without access to clean water and sanitation were really living a "less than human existence."
Finally, he explained, that it comes down to the question of a legacy, "It has always felt like I should always do what I can within my own sphere of influence to effect positive change for people. I'm looking at all these issues and this one is so massive it felt like there is so little awareness about it, it felt like the best place to put my time and energy."
Damon cofounded Water.org with Gary White in 2009. The organization really resulted from the merger of nonprofits that each had created previously. Damon joked that at the time, he went looking for the world's greatest expert on water and "when that guy wouldn't take my call, I called Gary." He went on to say that in fact, White is the world's leading expert on water issues. White later returned the compliment, first suggesting that he should have called Ben Affleck, but later explaining that Damon has truly become an expert on water as well.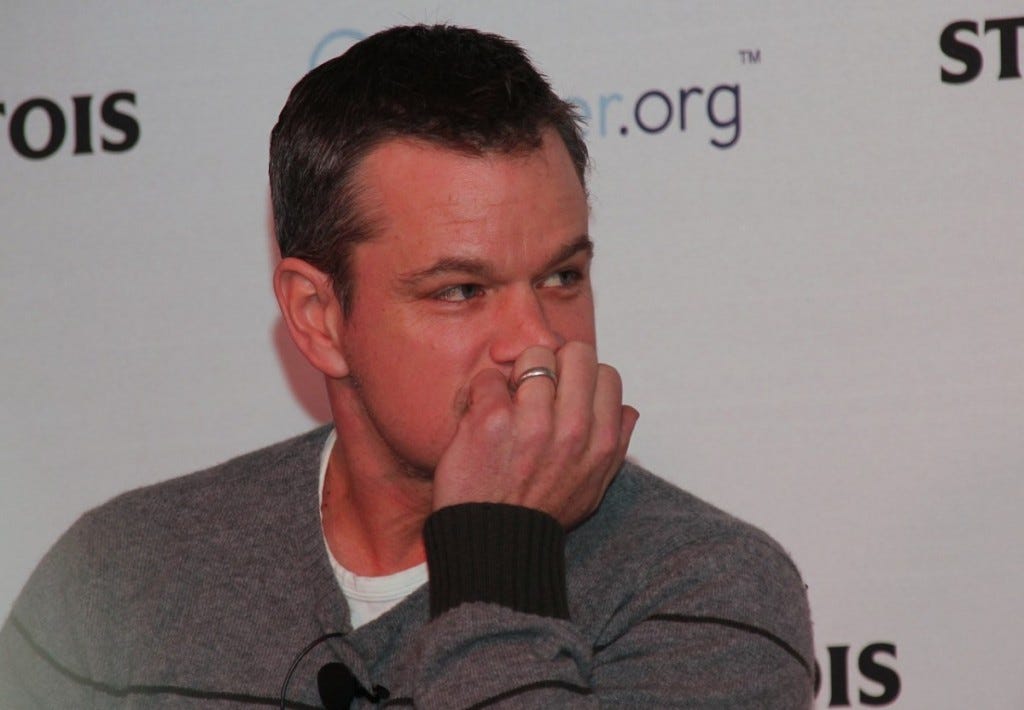 Damon sees access to clean water as a part of what he said that Bono calls "stupid poverty," referring to the causes and contributors to poverty that we know how to fix, like how to deliver clean water.
At the press conference, Damon plugged the Stella Artois "Buy a Lady a Drink" campaign that suggests people buy a chalice from the brewer with proceeds supporting Water.org. One chalice purchase, Damon noted, will provide five years of clean drinking water for a woman who lacks access to clean water.
Damon explained how access to clean water is a gender issue, noting that the vast majority of the time required to collect water, which totals hundreds of millions of hours every day, is spent by women and girls. As a result, women are kept from more productive tasks and girls are frequently prevented from attending school simply to make time for collecting water.
Damon's passion for this effort came through as he explained that "We can be the generation to do this," referring to providing clean water and sanitation to everyone on the planet. He noted that we know there are solutions and " Americans, regardless of their politics, want to do what works. "
One of the solutions Damon highlighted is "water credit," the innovation developed by White to use microfinance to support people living in poor urban areas who often live atop a functioning clean water supply without access to it. By lending them the money to put taps in their homes, their time is freed to do more productive things than collect water, making it easy for them to repay the loans. Damon notes that 94 percent of the loans are to women and that more than 99 percent of the loans are repaid. I've previously visited with White about water credit here and here.
Matt challenged the world to help solve this issue, "What is our mark going to be? What are we here for? What are we going to do with our chance?"
The post Matt Damon Jokes About 'Toilet Strike,' Then Things Get Real With The Water.org Co-Founder appeared first on Your Mark On The World.