Love UT Give UT Coming March 20, 2014
The Community Foundation of Utah is ready for the second annual Love UT Give UT giving day. After raising over $800,000 in 2013 and hopes to raise much more in 2014.
Throughout the entire day, we'll be streaming a live show from Gallivan Center to celebrate and promote Love UT Give UT. We'll have professional broadcasters for hosts throughout the day. I'll be "producing" the show.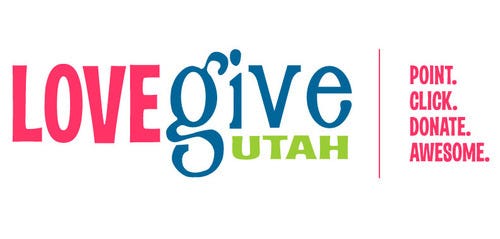 We'll have nonprofit leaders and dignitaries join us throughout the day. Here's the schedule:
8:00 AM Community Foundation of Utah

8:10 AM Utah Nonprofits Association

8:20 AM The Sharing Place

8:30 AM Community Foundation of Utah

8:40 AM Senior Charity Care Foundation

9:00 AM Noble Horse Sanctuary

9:10 AM Repertory Dance Theater

9:30 AM Girls Scouts of Utah

9:40 AM Tracy Aviary

9:50 AM Head Start

10:00 AM Wasatch Gardens

10:10 AM Pygmalion Theater and YWCA

10:20 AM Turn Community Services

10:30 AM American Cancer Society

10:40 AM Weber State University

11:00 AM Utah Assistive Technologies Program

11:10 AM Utah Faces

11:20 AM Cottonwood Heights

11:40 AM Utah Youth Village

12:00 PM Salt Lake Arts Academy

12:10 PM National MS Society

12:20 PM HEAL Utah

12:30 PM UNA Southern Utah

12:40 PM 12:50 PM

1:00 PM Scott Chapman, Chapman Richards

1:10 PM American Childhood Cancer Organization

1:20 PM Utah Support Advocates for Recovery Awareness

1:30 PM Salt Lake Bicycle Collective

2:00 PM Ogden

2:10 PM Weber Pathways

2:20 PM Utah Animal Adoption Center

2:40 PM Mayor Becker's Office

3:00 PM Epilepsy Alliance

3:10 PM Mayor McAdams

3:20 PM St.George

3:30 PM Westminster College

3:40 PM St. George guest TBD

4:00 PM Ogden Nature Center

4:30 PM Plan-B Theater Company

4:50 PM Boys and Girls Club of Salt Lake

5:00 PM St. George guest TBD

5:30 PM Beacon After School Program

5:50 PM Community Foundation of Utah
Watch at LoveUTGiveUT.org.
The post Love UT Give UT Coming March 20, 2014 appeared first on Your Mark On The World.