Live Discussion With Author Of World Economic Forum Guide To Impact Investing
This post was originally produced for Forbes.
According to Abigail Noble , head of impact investing at the World Economic Forum, "While impact investing has entered the mainstream mindset, it has not become part of the strategy, operations and business culture of mainstream investment institutions. For most investors today, impact investing still needs to be translated from a compelling concept into a sound strategy."
"We are optimistic about the impact investing sector –while it has been hard to do impact investing it doesn't necessarily need to be," she added.
In order to address this concern, the World Economic Forum has released a new report called "Charting the Course" that provides a series of roadmaps or frameworks that will help investors actually begin to invest for impact.
The report, Noble says, offers "useful navigational aids and waypoints" to help investors find a course that suits their individual objectives and motivations for impact and return. She says, "Each investor needs to evaluate whether impact investing fits with its investment principles, future growth plans and strategic constraints – and where it does fit, how it can chart its own course in impact investing that is visionary, pragmatic and competitively positioned for the long run."
On Thursday, October 23, 2014 at 4:00 Eastern, Noble will join me for a live discussion about the report and the frameworks that individual investors may choose to follow for impact investing. Tune in here then to watch the interview live.
More about the World Economic Forum:
Best known for its annual convening in Davos, Switzerland – the World Economic Forum was established in 1971 as a not-for-profit Foundation and continues to operate as an independent, impartial international institution committed to improving the state of the world through public-private cooperation. The "Forum" engages political, business, academic and other leaders of society in collaborative efforts to shape global, regional and industry agendas. Together with other stakeholders, it works to define challenges, solutions and actions, always in the spirit of global citizenship. The Forum strives in all its efforts to demonstrate entrepreneurship in the global public interest while upholding the highest standards of governance. Moral and intellectual integrity is at the heart of everything it does.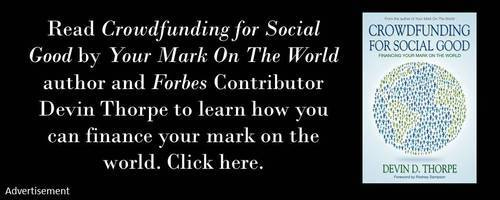 Noble's bio:
Abigail Noble is Head of Impact Investing Initiatives at the World Economic Forum. She is the co-author of the World Economic Forum's recent publications on Impact Investing, "Charting the Course: How Mainstream Investors can Design Visionary and Pragmatic Impact Investing Strategies", " Margins to the Mainstream" and the Schwab Foundation for Social Entrepreneurship's "Social Investment Manual" as well as editor of the series "From Ideas to Practice". She is a frequent blogger for the World Economic Forum and on the Huffington Post on the topics of impact investing, social innovation, socio-economic inequality and on leadership. From 2010 until 2013, she served as the Head of Latin America and Africa for the Schwab Foundation for Social Entrepreneurship. On behalf of the World Economic Forum, she served on the G8 Social Impact Investment Task Force Asset Allocation Working Group and helped launch the Global Learning Exchange on Social Impact Investing. She received her B.A. in Economics from Tufts University, her Master's in International Development (MPA/ID) from the Harvard Kennedy School of Government, was a Global Leadership Fellow with the World Economic Forum and a Fulbright Scholar in Uruguay, where she studied democracy and economic development.
Remember to "join the cavalry" by subscribing to Devin's content here.
The post Live Discussion With Author Of World Economic Forum Guide To Impact Investing appeared first on Your Mark On The World.