Learn More About Traveling To Nepal With CHOICE Humanitarian And Me
I am so excited! Fresh off my Rotary trip to Ethiopia for polio immunizations, I'm now looking forward to my service expedition with CHOICE Humanitarian to Nepal in February. Here's the news: you can join me. I hope you will!
Wade Alexander, who recently returned from Kenya himself, is the expedition leader for CHOICE. He says, "Expeditions are life-changing experiences. Expeditions allow others to broaden global perspectives and serve hand-in-hand with rural villagers."
See my interview with CHOICE Humanitarian Founder Jim Mayfield for Forbes.
On Thursday, November 13, 2014 at 2:00 Eastern, Wade will join me for a live discussion about the trip. Tune in then to watch the discussion live.
You can download an audio podcast here or subscribe via iTunes.
More about CHOICE Humanitarian:
CHOICE Humanitarian works in rural communities across the globe, empowering villagers from the bottom-up to pull themselves from poverty and drive themselves down a path toward self-reliance. CHOICE relies on local leadership to implement a community-wide model of self-sustainable development that will have a positive impact on the village as a whole. At this time, CHOICE works in five distinct countries: Mexico, Guatemala, Bolivia, Kenya, and Nepal.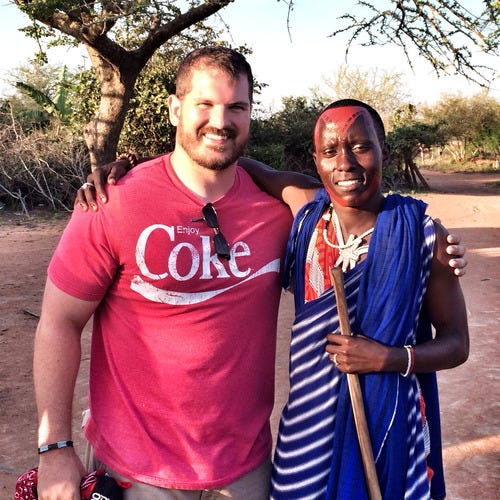 Wade's bio:
R. Wade Alexander was born and raised in Fairfax, Virginia. He first left the United States in 1999 to serve an ecclesiastical mission in northwest Argentina until 2001. Following subsequent trips to South America for both tourism and human rights research, Wade graduated from BYU in 2005 with degrees in Latin American Studies and Human Development.

Wade joined CHOICE Humanitarian in 2009, a non-profit organization focused on building local leadership and empowering rural villages across the globe. As Director of Expeditions, he organizes all field visits and service-related trips, often leading large groups of volunteers across Latin America, Africa, and Asia. In 2013, Wade completed the Executive MPA program of BYU.

Wade and his beautiful wife, Tania, live in Eagle Mountain (Utah) with their two darling children. He is a competitive grappler, creative artist, and a published travel writer and photographer with such work appearing in both Transitions Abroad and South American Explorers.
Remember to "join the cavalry" by subscribing to our content here.
The post Learn More About Traveling To Nepal With CHOICE Humanitarian And Me appeared first on Your Mark On The World.