Thursday January 31, 2013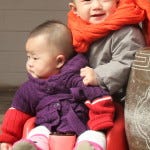 Last March, my wife Gail and I had the opportunity to visit the Starfish Foster Home in Xi'an, China. The home was operated by Amanda De Lange, a remarkable woman who had given her life entirely to these children, all of whom were born with birth defects.
Amanda nursed them back to health, leveraged international resources to obtain needed surgeries and helped them to be adopted, most frequently to the U.S. but almost always internationally. Amanda's service was truly selfless. About one year ago Amanda was diagnosed with cancer and passed away last July.
After a fire in a private orphanage killed several children in China recently, the provincial government required Starfish–like all private orphanages–to return all of the children to the large public orphanages where they had come from. The Starfish staff remain engaged in the care for these kids and adoptions continue as before, but the future of the Starfish Foster Home is certainly in doubt.
The children are beautiful and I will always hope for the best for them!
The post appeared first on Your Mark On The World.