Kickstarter makes corporate investors build parks through online games
Guest post from teen entrepreneur Andrejs Zolotovskovs.
Since its launch Kickstarter has given birth to a lot of unusual (and often unnecessary) projects, such as zombie soap or documentary on throwing rolls of toilet paper. It's growing in popularity and looks like a perfect place for your average Joe and Jane to get their new crazy endeavor financed. There is, however, another side to Kickstarter.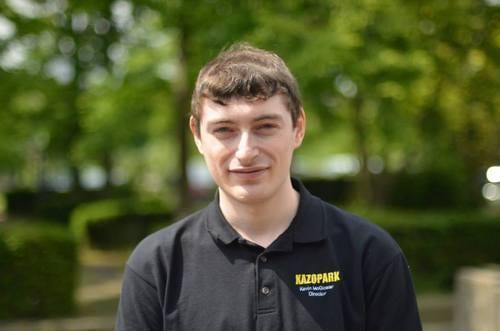 KAZOPARK Project Director Kevin McGowan
As a popular crowd-funding platform, Kickstarter is a great place to turn for those who want to make a real world difference, like create an open source Geiger Counter used to measure radiation levels in Japan near Fukushima, or form a beautiful underground park on NYC's Lower East Side. Unfortunately a lot of inspiring examples, however necessary, are not as exciting as their crazy alternatives. They are often ignored by mainstream blogs and without proper media coverage – it's next to impossible to gather necessary funding. This is where amazing forces of social conscience comes in.
Brian Fargo was very fortunate to get 2 of his Kickstarter projects fully financed. As a thank you he formed the "Kicking It Forward" initiative (http://kickingitforward.org), promising to back other projects for 5% of whatever budget he'll receive through his Kickstarter campaigns. This concept quickly grew in popularity within Kickstarter community and got more than 200 other successfully funded projects to commit as well. This resulted in a lot of socially responsible projects, overlooked by media but amazing in concept, get the proper funding. What's more exciting, for certain projects this concept produced some unexpected outcomes.
KAZOPARK is an online virtual world project. Its Kickstarter campaign, also a part of the "Kicking It Forward" initiative, was launched just a few days ago, but got fully funded within the first 48 hours. The twist – 90% of its pledges came from corporate investors, looking to promote their projects and services within the game. With 26 more days to go – project is estimated to get even more corporate funding. "We are overwhelmed with response we got. Currently we're considering several public space transformation projects on Kickstarter to fulfill our 'Kicking It Forward' initiative duties", says Kazopark director Kevin McGowan. So in other words – corporate investors has just supported forming of new parks while getting advertised.
The "Kicking It Forward" initiative is a great social trend in a fight for crowd-funding and every successfully funded project that supports it is a strong positive signal for Kickstarter community. Several strong new crowd-funding platforms have emerged after Kickstarter, but their communities are yet to form anything similar. To support the "Kicking It Forward" initiative and Kazopark project, please visit its Kickstarter page.
The post Kickstarter makes corporate investors build parks through online games appeared first on Your Mark On The World.