Kickante Transforms Crowdfunding, Creates Sharing Economy in Brazil Amidst Difficult Economic Downturn
The leading crowdfunding site in Brazil provides personalized ways to fund projects for NGOs, entrepreneurs and individuals.
August 31, 2015 — New York — Kickante, the leading crowdfunding platform in Brazil, based in Sao Paulo, has transformed crowdfunding in Brazil by catering to Brazilian culture and educating individuals and organizations on how to raise funds. Since its founding less than two years ago, Kickante has grown exponentially, tripling in just the last six months, while the Brazilian economy is struggling.
Kickante has funded more than 8,000 projects in just one and a half years of existence, while its competitors launch a maximum of 200 campaigns per month. With its unique platform compiling crowdfunding, ecommerce, traditional fundraising techniques, a team of dedicated and creative employees, and its unique technology platform and marketing services, the company has already received interest to expand its platform in Brazil and other countries.
Kickante includes a full suite of crowdfunding features, including the following:
Installment contributions, where backers can pay in up to six installments.

Personalized training in fundraising and crowdfunding techniques, pre- and post-campaign launch.

Automated administrative help of fundraising techniques that help a campaign reach its target, keeping the owners focused on marketing.

A monthly contribution club linked to crowdfunding campaigns, helping the owner go beyond its 60-day crowdfunding campaign.

Third-party fundraising campaigns. Anyone can create campaigns to raise funds for a non-governmental organization (NGO) using a peer-to-peer network; the amounts raised will go directly to the NGO's registered bank account.

Two campaign options: All–or-nothing funding (keepmoney raised only if the entire target amount is reached), or flexible funding (take whatever amount is raised).

Authorized connection to YouTube videos, helping campaigns go viral.

Monthly webinars on the topics of crowdfunding and fundraising.
"Brazilians are embracing the sharing economy," said Candice Pascoal, co-founder and chairwoman of Kickante. "Just like the year 2009 when Crowdfunding boomed in the United States due to the weakened economy, we see the same trend happening in Brazil. Our site has given Brazilians opportunities to fund projects and participate in donating to projects that would have never before seen the light of day. We are seeing projects funded in art, entrepreneurship, the volunteer sector, and many other categories, especially in the current Brazilian economy."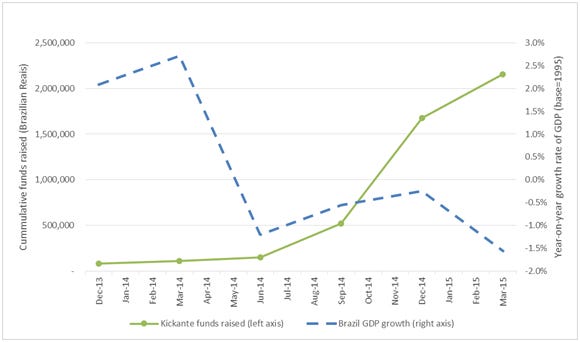 Successful campaigns launched on Kickante, such as the ones cited below, are diverse:
Bel Pesce raised more than 342 percent of her goal to finance a national tour of lectures on her book, "A Menina do Vale 2" (A Girl from the Valley 2).

Nazi (lead singer of the band Ira!), Lobão, Leila Pinheiro and several other musicians have funded projects.

The board game, "Caçadores da Galaxia" (Galaxy Hunters), raised 870 percent of its campaign goal.

Both large and small NGOs, from"FixandoRaízes" (Setting Roots)to Doctors Without Borders, Greenpeace, Red Cross, and World Vision, are successfully funding campaigns.
About Kickante
Founded in October 2013, Kickante is the largest crowdfunding platform in Brazil. Kickante has launched more than 8,000 campaigns and raised more than R$14million. Kickante offers both flexible campaigns, ideal for projects that do not have a minimum value and may benefit from any amount collected, and all-or-nothing campaigns. Kickante is the only company in Brazil to have a unique link on YouTube, where a developer can assess whether a project deserves support and be directed to the campaign platform. In addition to launching campaigns quickly, and in a less bureaucratic and more democratic way, Kickante also offers the possibility for collaborators to donate in installments and for organizers to receive resources for their projects up-front. Visit www.kickante.com.br/ for more information.
The post Kickante Transforms Crowdfunding, Creates Sharing Economy in Brazil Amidst Difficult Economic Downturn appeared first on GoodCrowd.info.