It's Time to Change Giving For Good
Guest post from John M. Suddes of Ching.
For more than 25 years, I've been honored to work with non-profit organizations through our professional fundraising firm, Suddes Partners. In the last few years, I began thinking about the impact our increasingly digital society has on Suddes Partners' clients and the non-profit industry. Through my conversations with other industry leaders and passionate charity executives, a theme began to emerge – the world has become more viral and accessible, creating a ripe opportunity to expand and optimize the traditional fundraising model. It's time to harness digital advances and create viral tools that engage donors and amplify charitable missions.
Meet Ching
Consumers are spending more time (and money) online at an increasing rate, and this e-commerce trend is creating a lucrative opportunity for the non-profit community. Here's how- consumers will spend approximately $262 billion this year in online purchases, and continue to grow at a compounded rate of 10% per year. In many cases, the online retailer pays a third party a referral fee for the purchase. So it made sense to turn a non-profit organization into that third party, referring supporters to their favorite online retail sites and earning that fee itself. This lead to the development of Ching – the first purchase-driven fundraising tool designed specifically for non-profits.
In 2013, with the support of many friends and partners we launched Ching as a tool for non-profits to use in their fundraising efforts. By partnering directly with non-profits, Ching provides a customized technology platform that allows these organizations to earn a percentage of their supporters' purchases from top online retailers such as Amazon, Nordstrom, and Macy's. In addition to the added new revenue all non-profits need (and desire), Ching also provides the non-profit with an opportunity to engage existing donors on a regular basis and provides an easy way to cultivate new supporters, which all of us in development strive to do. Further, this tool is free for both non-profit organizations and the supporters who use it.
Ching's first partnership is with Florida-based Food For Thought Outreach, a charity supporting students who often go hungry outside of school hours. Food For Thought founder, Tiffanie Shelton, began providing weekly meals to six children in her community and has now successfully grown the organization with the ability to provide for over 150 children in her area across four different schools. I knew that an organization like Food For Thought Outreach, that strives to provide for those in need week after week, would be the perfect first partner to utilize this tool. This organization needs a constant stream of funding throughout the year and now with Ching, their fundraising efforts go beyond local events. Every penny adds up, and as little as $2.50 can fill a backpack with food for one child in need. Food For Thought Outreach supporters can click here for more information and to sign-up.
Plain and simple – we fundraising professionals need to be doing more to help non-profits. It's my hope that Ching goes a long way in moving fundraising forward. I hope you'll join us in sharing Ching with your favorite organization – together we can "change giving for good."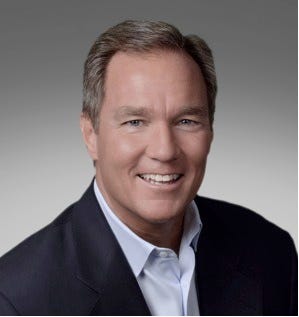 John M. Suddes has spent the past 25+ years helping non-profit organizations achieve unprecedented fundraising breakthroughs through his firm, Suddes Partners. In 2013, John founded Ching to continue his life mission of developing creative and effective funding solutions for nonprofits. Find John on Twitter @JohnMSuddes and @GiveChing.
The post It's Time to Change Giving For Good appeared first on Your Mark On The World.