Tuesday June 12, 2012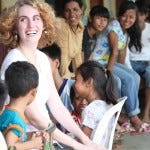 Isn't that an amazing smile? My friend CarrieAnn doesn't just have an amazing smile, she is an amazing person. She accompanied me to visit the CICFO Orphanage in April, spending basically the entire, sweltering day there. She was a non-stop fountain of joy. Which is pretty much a normal day for her.
Today, however, I've been thinking about the power of a smile. I'm afraid that I'm not going where you think I'm going. A smile is a wonderful, powerful thing that really can make a difference in someone's day. We've all felt it. I know I have appreciated a friendly smile at times when I'm nervous in a new place, frustrated and angry over a nuisance problem that I'm blowing way out of proportion, or in countless other circumstances.
All that said, I worry sometimes when I see and hear people suggest a smile can make someone's day or change their world. The fact is, a smile, all by itself can't do that.
CarrieAnn is the perfect example. If CarrieAnn had flashed that brilliant smile at the kids as she drove by, waving excitedly as she went, the children there would have been rather less impressed than when she came to spend a day with them, playing games, hugging them, talking with them, singing and dancing with them.
Her smile is like a lighthouse beacon that can be seen from great distances, but its real value is that it is constant. The children loved her because she actually did something for them. It wasn't just a smile. It was a joyous day. And yes, she changed their lives in a single day. They'll never forget her. They'll never forget how she made them feel, but it wasn't just because she smiled.
We should all learn to smile like CarrieAnn. Big, beautiful, full of life, can't be stopped smiles that are so genuine and infectious that people around us are lifted by our presence, but we should never believe for a moment that a big, beautiful smile magically solves world problems. Hungry people still need to be fed, lonely people still need a friend, climate change is not slowed and even the sad will quickly return to their sadness if all we offer is the flash of a smile.
The world needs us to actually do something while we smile!
Who else is willing to do something–with a smile?
The post appeared first on Your Mark On The World.