Innovative Nonprofit Captures Food Waste, Feeds Hungry
"The USDA estimates that nearly half the food grown and produced in the US goes to waste. At the same time, more than 50 million Americans face hunger and need help from their local food banks to fill the gaps near the end of the month when their paychecks and food benefits run out," explains David Bobanick, Executive Director of Rotary First Harvest.
David's Seattle-based, innovative nonprofit "works with farmers, truckers, volunteers, food banks and other partners to develop collaborative programs that capture millions of pounds of pounds of cosmetically imperfect but highly nutritious produce for distribution to those in need."
While he acknowledges that Rotary First Harvest, which is a project led by Rotary District 5030, isn't the single solution to hunger in the world, it has distributed nearly 200 million pounds of food since its founding in 1982.
He says, "One of our greatest challenges we face is the actual time it takes to coordinate, harvest, transport and distribute perishable produce before it spoils, rots or goes to waste. There is no one-size-fits all solution, so creativity and adaptability must be critical parts of an effective food recovery equation."
David is able to see some challenges as opportunities; perhaps that is what defines an effective social entrepreneur. "We've learned that every bit of food that is wasted has a critical point at which it went from being potentially nutritious to being a costly challenge with negative environmental and human impacts. Our work is focused on finding that critical point, and creating a program or solution that redirects the food for good."
David sees huge potential to expand and replicate the Rotary First Harvest model to move food directly from farms to food banks to feed people who simply don't have enough to eat.
"Through our core work of redirecting full truckloads of produce to food banks, we are building a catalog of ideas, models and best practices that can be applied in communities around the country and the world," he concludes.
On Thursday, June 30, 2016 at noon Eastern, David will join me here for a live discussion about his effort to feed hungry people and how it can be expanded and replicated to feed even more. Tune in here then to watch the interview live. Post questions in the comments below or tweet questions before the interview to @devindthorpe.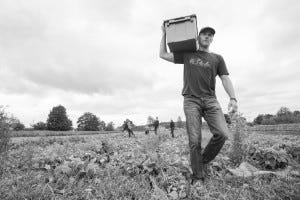 David Bobanick, courtesy of Rotary First Harvest
More about Rotary First Harvest:
Twitter: @rfharvest

Rotary First Harvest connects farmers, truckers, volunteers and food banks for hunger relief. Our role is to find opportunities to collaborate with existing networks, companies and organizations to redirect millions of pounds of produce that might otherwise have been wasted into the hands of families and individuals receiving assistance from hunger relief agencies.
David's bio:
Twitter: @bobanickdb

David has more than two decades of experience in non-profit management. Since David joined Rotary First Harvest in 2001, the organization has quadrupled the amount of produce collected and distributed annually and significantly expanded RFH's strategic impact at the local, national and international levels. David has developed Rotary-based hunger relief programs in other states and countries and serves on several state, national and international committees focused on agricultural development and hunger response initiatives, including serving as President of the Rotarian Action Group for the Alleviation of Hunger and Malnutrition.

David participated in the inaugural Non-Profit Executive Leadership Institute at the Evans School of Public Affairs at the University of Washington as well as Executive Leadership Institutes at Stanford University's School of Social Innovation. David has guided several nonprofit organizations in the development of long-range strategic plans, and serves as a board officer for four local and statewide nonprofit organizations.

David currently serves as District Trainer for Rotary District 5030, just finished his second term as an Assistant Governor, is Past President of the Rotary Club of Mercer Island and is an Assistant Rotary Public Information Coordinator for Zones 25/26.
Never miss another interview! Join Devin here!
Devin is a journalist, author and speaker who calls himself a champion of social good. With a goal to help solve some of the world's biggest problems by 2045, he focuses on telling the stories of those who are leading the way! Learn more at DevinThorpe.com!
The post Innovative Nonprofit Captures Food Waste, Feeds Hungry appeared first on Your Mark On The World.