Innovative Film Distribution Model Gives Money To Charity While You Watch For Free
This post was originally produced for Forbes.
Last month, my local Rotary District 5420, joined the premiere of the new documentary film Beyond Right and Wrong. The event was organized by social entrepreneur Scott Windes of CauseBrands. The film was jawdroppingly inspiring. Centered around the lives of multiple people who have forgiven and befriended people who murdered family members, the film gives new meaning to the word "forgiveness."
The film will be distributed initially in an inspiring way. A $500,000 pool of donations has been set aside and will be donated according to the direction of the first 1 million people to watch the film for free. Whenever people watch the film, they get to direct their share of the pool to one of several different approved organizations that is working for peace in the world. The organizations include The Malala Fund, Women for Women International, the Anasazi Foundation, Nelson Mandela Centre of Memory, Free the Children, and Peace Players International.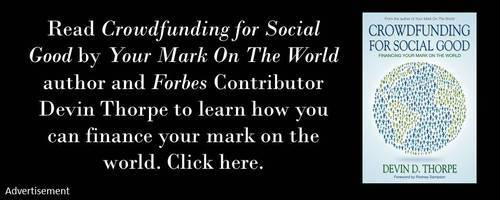 On Thursday, February 13, 2014 at 7:00 PM Eastern, I will be joined by filmmaker Lekha Singh, producer of Beyond Right and Wrong; Kweku Mandela, co-founder of Africa Rising and grandson of Nelson Mandela; and Lindsay Hadley, of Hadley Impact, who developed the plan to donate funds based on the choice of the viewers who watch the film for free. You can watch our live discussion below.
Tune in and listen while you work.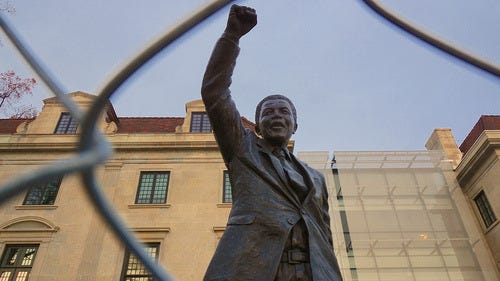 Nelson Mandela Statue – South African Embassy 34019 (Photo credit: tedeytan)
Singh's bio:
Fine-art photographer Lekha Singh's work offers insight into the human condition around the world. She contributed photographs to National Geographic's The Other Side of War: Women's Stories of Survival and Hope, and her photography books include Call to Love: In the Rose Garden with Rumi, Bhutan, and Pop-Up Pianos. She also executively produced the documentaries Squareand Midway. Singh made her directorial debut with the documentary film Beyond Right & Wrong.
Mandela's bio:
Kweku was born in Transkei, South Africa and grew up in America only returning to his homeland in 1993.

He attended APA International Film School in Sydney with long-time collaborator Stefan Vincent. They are currently working on a number of projects together.

Kweku is very active in the South African Film and Entertainment industries, directing and producing projects with his South African production company Out Of Africa Entertainment and working on a variety of other locally produced films.

Recently, Kweku Executive Produced acclaimed Novel "The Bang Bang Club" into a feature film, was released in early 2011. He has worked with and Supported Oxfam Australia and Make Poverty History. In mid-2009 he co-founded Africa Rising with his cousin Ndaba Mandela and their dream of changing Africa's image and fostering young leadership and partnerships around the world was started.
Hadley's bio:
Lindsay Hadley has lived in Australia, Russia, and China and traveled to more than 35 countries. Early in her career, she facilitated dozens of international humanitarian projects in Kenya, Peru, Mexico, and Thailand. Since then, she has raised more than $20M for social causes. Lindsay executive produced The End of Polio Concert in Perth, Australia, and the Global Citizen Festival in 2012 and 2013 in Central Park, which – with a live audience of 60,000 and a worldwide media reach of more than 3 billion — is the largest charity event syndication to date. The mother of two small boys and the wife of a loving and supportive husband, Lindsay knows that relationships are most important in this life.
The post Innovative Film Distribution Model Gives Money To Charity While You Watch For Free appeared first on Your Mark On The World.