Humanitarian Teaches Others How To Serve Effectively
Brad Jamison has dedicated much of his life to serving others. He built Good Citizen to foster service and volunteering to improve our communities and the world.
He suggests five commitments for volunteers:
Be present

Check your ego at the door

Do whatever is asked

Be a student

Focus on the Good
On Thursday, November 20 at 1:00 Eastern, Brad will join me here for a live discussion about service and volunteering. Tune in here then to watch the interview live.
More about Good Citizen:
Good Citizen is dedicated to providing the inspiration, information and resources needed to improve ourselves, our communities, our nation and our world through service.

Good Citizen was born from Brad Jamison's personal journey serving others for more than 30 years, as well as his professional experience studying and witnessing the transformative nature of service. It is Brad's belief that service – the act of sharing oneself with others – is one of the keys to a more productive, compassionate and cohesive world.

By bringing together tips, tools, stories and various points of view, Good Citizen strives to give you what you need to get involved in your community through service. And, that via service, you will be a "good citizen" and catalyst for great change.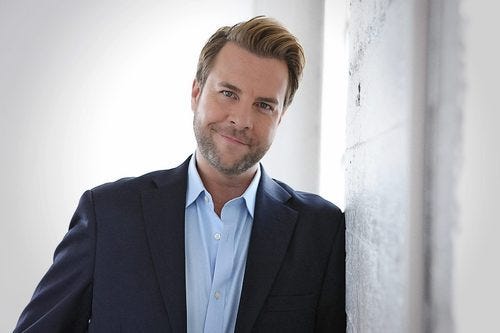 Brad's bio:
Brad Jamison is an award-winning professional who has built a career combining his love of media and passion for helping others. As an executive and humanitarian, he has leveraged the most powerful mediums to increase awareness, raise millions of dollars, encourage involvement and, above all, make a difference in the lives of others.

Guided by his desire to serve others, Brad conceived and executed Thirty Days of Service, a multi-layered initiative based on personally conducting thirty service projects with thirty organizations in thirty consecutive days. Via a daily written and video blog, as well as social media and other outreach, Brad's goal was to inspire others to serve in their communities. This effort was recognized with the prestigious Daily Point of Light Award, which celebrates the power of the individual to spark change and improve the world.

Previously, Brad spent more than seven years as Vice President of Corporate Initiatives for Disney/ABC Television Group (DATG). In that role, he provided vision and leadership for the strategic development, implementation and sponsorship of pro-social efforts designed to educate, inspire and empower viewers/users of DATG's vast on-air and online assets. He also oversaw more than $5 million in annual cash and in-kind philanthropic giving.

Prior to Disney/ABC, Brad spent a decade at prestigious public relations firms, Edelman, Ketchum and Ogilvy, where he developed pro-social campaigns for leading consumer product companies.

Throughout his career, Brad has worked with hundreds of celebrities on pro-social efforts, helped raise millions of dollars for worthy causes and had the privilege of contributing millions more to worthy organizations on behalf of corporations.

A New Jersey native, Brad is a Magna Cum Laude graduate of Ithaca College and currently lives in Los Angeles with his partner of 9 years and their rescue dog. He is an active volunteer with a number of organizations and a proud board member of the Boys & Girls Club of Hollywood. He is a featured columnist on The Huffington Post.
Remember to "join the cavalry" by subscribing to our content here.
The post Humanitarian Teaches Others How To Serve Effectively appeared first on Your Mark On The World.