Hult Prize Finalist: 'Truly Global Medical Devices Are Hard To Find'
The Hult Prize, arguably the most prestigious student business competition of any sort, awards student social entrepreneurs with a $1 million prize from the Hult Family presented by President Bill Clinton at the the Clinton Global Initiative. There were six finalists named, including WiCare, which develops affordable medical devices for use worldwide.
The final judges for the prize included Nobel Peace Prize winner Muhammad Yunus and CNN's Dr. Sanjay Gupta.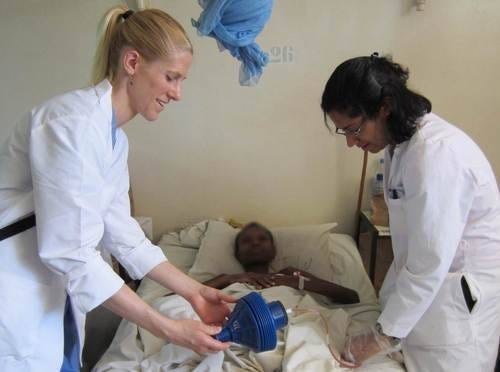 Danielle Zurovcik (left) and Dr. Gita Mody (right) monitor the Wound-Pump on one of their patients during the phase I field study at University Central Hospital ofKigali (CHUK) in Kigali, Rwanda.
WiCare founder Danielle Zurovcik of MIT explained, "Truly global medical devices are hard-to-find. WiCare aims to change that."
She went on to say, "We feel that WiCare has a competitive advantage as a start-up focused in the global marketplace. We do not have to change our long-standing corporate culture to shift into the global setting, as the global aspect is in the foundation and core of our business."
Danielle will join me on October 9, 2014 at 5:00 Eastern (due to technical issues at Google we'll start about 5:15) to talk about their high impact work and the recognition they have received as finalists. Tune in here then to watch the interview.
You can download an audio podcast here or subscribe via iTunes.
More about the Hult Prize:
Hult Prize remains as the world's largest student competition around impact and start-up accelerator for budding young social entrepreneurs emerging from universities worldwide. Since 2011, Hult Prize Challenge has evolved from being the worlds largest crowd-sourcing competition for social entrepreneurship, to an international movement and now, after 5 years, the competition is a driver of global industries. The Hult Prize Foundation is a not-for-profit organization dedicated to launching the world's next wave of social entrepreneurs. It encourages the world's brightest business minds to compete in teams to solve the planet's biggest challenges with innovative ideas for sustainable start-up enterprises.
More about WiCare:
WiCare develops innovative medical devices that are clinically effective and affordable worldwide. We find cutting-edge solutions to complex problems through smart design. This approach yields results that improve healthcare and clinical outcomes in all markets, from world-class hospitals in the United States to rural clinics in the developing world. Our first device, the Wound-Pump, provides a negative pressure wound therapy (NPWT) solution that will help to heal the millions of open wounds around the world, including diabetic ulcers, bed sores, burns and trauma.
Danielle's bio:
Danielle Zurovcik is currently Founder and CEO of WiCare, for which she invented and developed an inexpensive, negative pressure wound therapy device, the Wound-Pump. She supported the Wound-Pump clinical applications during the Earthquake Relief Effort in Haiti and a phase I clinical trial in Rwanda. She graduated in August 2012 from MIT with her PhD in Mechanical Engineering and a minor in Technology, Innovation and Entrepreneurship at MIT Sloan. Prior to her PhD, she received an MS in Mechanical Engineering from MIT and a BS in Mechanical Engineering from Penn State, Schreyer Honors College, with minors in Engineering Entrepreneurship, Engineering Leadership Development, Product Realization and Engineering Mechanics. She has received awards, including the: CAMTech Innovation Award, MIT D-Lab Scale-Ups Fellowship, Hugh Hampton Young Memorial Fund Fellowship, MIT Graduate Women of Excellence Award, and World Technology Award for Health & Medicine.
Remember to "join the cavalry" by subscribing to our content here.
The post Hult Prize Finalist: 'Truly Global Medical Devices Are Hard To Find' appeared first on Your Mark On The World.