How Online Forms Can Boost Donor Engagement Rates
This is a guest post from Chris Lucas, the vice president of business development at Formstack (www.formstack.com)
Formstack, an online form building platform, recently released its 2014 Form Conversion Report. This benchmark analysis of over 400,000 online forms reveals how different industries use online forms and what factors help customers complete your form. Nonprofits boast a form conversion rate of 15 percent, which is the second-highest rate by industry. The average conversion rate for all industries is 11 percent.
In contrast to the 15 percent rate is a 2012 Marketing Sherpa study that reported nonprofit websites' conversion rate was only 2 percent. According to the data in the Form Conversion Report, it appears that nonprofits that use online forms have better conversion rates. Several key data points reveal what nonprofits can do to use forms to collect more information and engage donors.

Promote in the right place, at the right time
Since technology makes it easy to schedule emails and social media posts, nonprofits can gain an advantage by understanding donor behavior. The Form Conversion Report states that the peak time for donation form submissions is from noon to 3:00 p.m.
Even though people donate at other times of day, the popularity of the early afternoon is worth noting. Increase donor activity by adjusting social media and email campaign timing. Let your marketing materials reach donors at the time they are most likely to click through and make a contribution.
The research also shows that there is not a one-size-fits-all recipe for social media success. Different demographics have different patterns. For example, Facebook sharing spikes on Thursdays and Fridays, while LinkedIn is most popular on Tuesdays and Thursdays. Twitter is best midweek through the weekend. Test which time of day results in highest levels of online engagement.
Change the submit button
When building online forms, people give a lot of attention to the information they need to collect. The lowly submit button doesn't get as much thought. Formstack states that the most popular submit buttons are "Submit Form" and "Subscribe," but those are not the highest-converting buttons.
The submit button is the last opportunity to convince a donor or potential contact to give you their money or personal information. It should clearly communicate your value proposition. In the case of donations you could use content like "Help Now" or "Join the Cause." Test how changes in button wording can impact conversions.
Choose the right type of form
The most significant benefit of online forms is collecting data to build strong relationships. Contact forms, however, only convert at a 3 percent rate. To capture donor information, consider using contests and surveys, which convert at 28 percent and 21 percent, respectively. Nonprofits also benefit from event registrations, which convert at 11 percent. As an added benefit, event participants tend to be very qualified leads.
Any type of form can be "smart," or responsive. This feature shows or hides questions based on how a user responds. Forty percent of nonprofit organizations use "smart" forms, resulting in customized forms that are easier for people to fill out.
Online forms and conversions
According to the data in Formstack's report, organizations that use online forms are likely to see a positive impact on their conversions. Nonprofits can use online forms to increase engagement with advocates and donors. To improve your conversion rates, try making small but strategic changes to your online forms.
Remember to "join the cavalry" by subscribing to Devin's content here.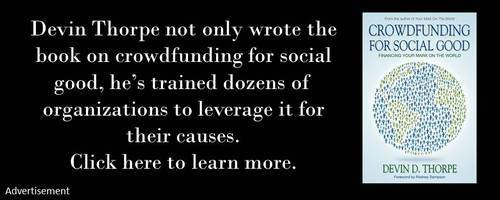 The post How Online Forms Can Boost Donor Engagement Rates appeared first on Your Mark On The World.