Hooked on giving
This is a guest post from Meredith James, Program Director of the One Percent Foundation.
Why do we give?
This question flummoxed Darwin and puzzled social scientists. Parts of evolutionary and economic theory are based on the principal that in order to survive and be successful, people must put themselves first, so why do we forgo our personal gains for benefit of others by engaging in charity?
Quite simply, giving feels good.
Members of the One Percent Foundation (OPF), regular Joes and Janes, willingly part with at least 1% of their income each month to participate in an online giving circle. They pool their resources with peers who are passionate about the same causes and decide collectively how to award the money. The collaborative nature of giving circles both amplifies financial impact and fosters a chance for members to share and learn from each other. It's social, fun, and comes with the warm, fuzzy feeling of doing good. The potent combination of benefits has members hooked.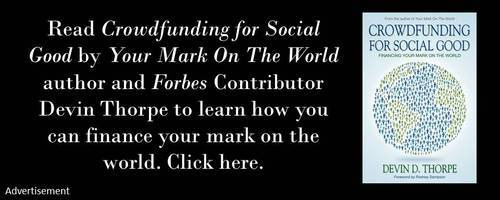 "Simply put – I'm addicted," exclaims OPF member Marian Zizzo. "Becoming a partner at OPF has taught me how to give wisely and has exposed me to tons of nonprofits doing amazing work in this world. When I see how a small amount of money can make a big impact through our collective power, I get an overwhelming feeling of happiness. Today, philanthropy is a part of my everyday life and I crave it as much as a daily cup of coffee."
Research from a recent study backs up what OPF hears anecdotally from members. It turns out that fuzzy feeling has a scientific basis and is very real. Dr. Bill Harbaugh at the University of Oregon researched how the brain activates during acts of charity, and was specifically looking for evidence of the "sense of agency associated with giving," or in less technical terms, "warm glow." According to Dr. Harbaugh, brain scans revealed that when study participants decided to be philanthropic, there was a neural response similar to that of receiving money. Further, the part of the brain that controls cravings for food and sex also activated during acts of charity. In a nutshell, the desire to help others is controlled by the same part of the brain that controls the desire to eat and procreate.
A separate study by Dr. Jordan Grafman showed that the brain might reward philanthropy so favorably because altruism and social relationships are connected. This makes sense because the benefits of social bonds motivate people to behave unselfishly. The OPF model taps into both giving and social networks, allowing members to not only connect with the causes they are giving to, but also to the people they are giving with.Former OPF circle member Janet Daly Bauman explains that she and her husband "like the feeling of community that comes with a giving circle because we can create friendships and have benefits beyond writing checks."
The good feeling of giving can, quite literally, be habit-forming. Research shows that people who begin giving young are more inclined to give throughout their lifetimes. The OPF vision is to build the next generation of philanthropists and our circles are great places to start.Janet explains that prior to being in a circle, they rarely gave in an organized manner, but after joining OPF, "we were able to make philanthropy a habit and build it into our monthly budget."
They have left the OPF circle, but are still actively involved in giving. "Now that we're used to setting aside 1% annually, it's easy to keep that going," Janet notes.
Are you still unconvinced that giving makes you feel good? OPF operates a giving circle platform, where any group of people — from a book club, to a kickball team, to an alumni chapter — can sign up and donate together. Start your own! Or, take one of our established giving circles out for a spin. The Next Gen Circle, a national circle with rotating issue areas, is a great place to start. Start small, with 1% of your income, and experience for yourself how great it feels to give.
Meredith James, Program Director
Meredith holds a Masters of Public Policy from the University of Maryland, where she spent two years working as a graduate assistant for the Center for Philanthropy and Nonprofit Leadership. Currently, she is on the Board of Directors of the San Francisco Road Runners Club. Prior to graduate school, Meredith worked for two years in the private sector for a print marketing firm. She has a dual-BS in International Business and Marketing from the University of Maryland. A Maryland native, she now resides in San Francisco, where she enjoys running in the shadow of the Golden Gate Bridge and sampling the finest coffee and chocolate the city has to offer.
The post Hooked on giving appeared first on Your Mark On The World.