Hershey Recognized For Work Among West African Farmers
This post was originally produced for Forbes.
The U.S. Department of State recently awarded its P3 Impact Award to Cocoa Link, a public private partnership connecting poor cocoa farmers in West Africa to government resources to improve crop yields. The initiative, launched by Hershey, was recognized for its impact on 45,000 users. Work is moving forward to scale the effort to more countries.
Crowdsourcing design company CrowdSPRING provided a five-panel mural recognizing all five of the finalists: African Diaspora Marketplace, Global Alliance for Clean Cookstoves, The Coca-Cola KO +0.07% Company and the World Wildlife Fund : Partnering to Protect Freshwater Resources, Wireless Access for Health Initiative and the winner Cocoa Link.
On Thursday, December 4, 2014 at 4:00 Eastern, CrowdSPRING CEO Mike Samson and Hershey's HSY +0.18% Senior Director, Cocoa Sustainability, Andy McCormick will join me for a live discussion about the award and the work in West Africa among cocoa farmers. Tune in here then to watch the interview live.
More about Cocolink:
Cocoa villages in West Africa are often isolated and it is difficult for farmers to access information on good agricultural practices. To address this issue The Hershey Company, the Ghana Cocoa Board, and the World Cocoa Foundation partnered to launch CocoaLink. CocoaLink connects cocoa farmers to government agriculture experts and the latest information on modern farming techniques through a two-way mobile phone exchange. Farmers use text and voice messages to receive information and ask questions about farming conditions and practices. The widespread use of mobile phones makes CocoaLink an economical and easy-to-use platform. To date, there are more than 45,000 registered CocoaLink users in 1,800 communities. Compared to non-CocoaLink farmers, on average, CocoaLink users experience a 45% yield improvement and a 70% income increase. Partners will use insights from the Ghana CocoaLink program to extend the program to other cocoa-growing countries in West Africa.
More about CrowdSPRING:
CrowdSPRING is an online marketplace for buyers and sellers of creative services.

Buyers who need a new logo, website, marketing materials or other creative content simply post what they need, when they need it and how much they want to pay. Once posted, creatives from around the world will submit actual work – not bids or proposals – for the buyer to review. As the submissions come in, buyers are able to review, sort, rate, provide feedback and collaborate with creatives until they find the "the one."
More about Hershey:
In addition to being the leading producer of chocolate and non-chocolate confectionery and other grocery products in North America, The Hershey Company also carries on a significant international presence with operations in more than 90 countries.
Mike Samson
Samson's bio:
Mike Samson is the co-Founder of crowdSPRING, the creative marketplace.

Prior to starting crowdSPRING, Mike was an Emmy Award nominated Producer and Production Manager with more than 20 years of experience as a senior manager in the film and television production industry. He has worked on dozens of feature film and television projects including "Wall Street," "Bull Durham," "Steven King's The Stand" (miniseries), and "Men in Black II." In prime-time dramatic television, he supervised on TV series such as "New York Undercover" and "Third Watch." Mike has received numerous honors individually and as a team member, including an Emmy Award nomination, DGA awards, and a George Foster Peabody Award. He is a member of the Directors Guild of America and the Academy of Television Arts &Sciences.

Mike is a frequent speaker on creative crowdsourcing and has given expert advice to audiences at top trade shows including South by Southwest and DEMO. He regularly works with journalists at broadcast, print and online media outlets including MSNBC, Crain's Chicago Business, AdAge, Wired, VentureBeat and the New York Times.

Mike has a BA in Mass Media from the University of Illinois and a MBA from Northwestern University's Kellogg Graduate School of Management.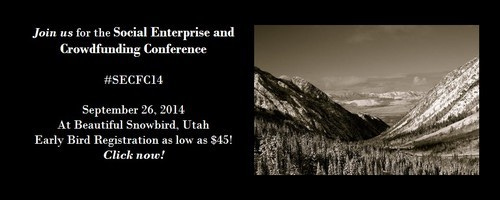 McCormick's bio:
Andy McCormick is Senior Director, Cocoa Sustainability, for The Hershey Company. In this role, he is responsible for collaborating with West African governments, industry and nonprofit organizations to develop and implement sustainable programming to improve the welfare of cocoa farmers globally.

Mr. McCormick leads the company's sustainability initiatives in West Africa, including a mobile phone program, CocoaLink, and Hershey's Learn to Grow farmer training program.

Prior to his current role, McCormick was Vice President, Public Affairs, where he was responsible for leading Hershey's Corporate Communications, Public Relations and Corporate Social Responsibility teams.

McCormick joined Hershey from Pfizer Inc., where he was Vice President, Worldwide Communications. Before joining Pfizer, he held positions at IBM Corporation and at daily newspapers in Virginia and Wilmington, Del. He has also worked in Ghana as a U.S. Peace Corps volunteer.

McCormick currently serves on the board of the International Cocoa Initiative. He is a past board member of the World Cocoa Foundation and United Way of Lancaster County.

McCormick holds a bachelor's degree from Evergreen State College in Olympia, Wash.
Remember to "join the cavalry" by subscribing to Devin's content here.
The post Hershey Recognized For Work Among West African Farmers appeared first on Your Mark On The World.