Tuesday May 29, 2012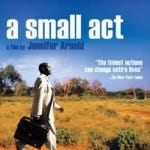 Gail and I watched "A Small Act" this evening. What a great film. The movie perfectly captures the spirit of Your Mark on the World.
The movie is about a Swedish holocaust survivor, Hilde Back, who casually decided to sponsor a child in Kenya, and the boy she sponsored, Chris Mburu, who, created a foundation in her name to sponsor similarly situated kids.
Chris grew up in a family without the means to keep him in primary school, but was highest scoring student in the district when he was in school. With Hilde's sponsorship, he stayed in school, completing primary and secondary school, and graduated from college in Kenya. He then completed a masters degree at Harvard.
He now works to prevent human rights abuses in his job working for the United Nations in Geneva, Switzerland.
Along the way, he worked through the Swedish embassy in Kenya to find Hilda. She was both shocked and thrilled to find her name on the new foundation. Chris and HIlde have now built a close relationship.
The post appeared first on Your Mark On The World.