First United Methodist Church of Salt Lake City Crowdfunds Organ Repair
The First United Methodist Church of Salt Lake City has the oldest organ in the state and it's showing its age. The lungs that feed the pipes are no longer able to supply enough air. A decades old "repair" that incorporated "modern" electronic components to fill the gaps leaves the beautiful organ deficient.
The Church has raised over $200,000 from a variety of sources, including the Church of Jesus Christ of Latter-day Saints, and is completing its fundraising with a $100,000 crowdfunding campaign on Razoo. So far, the campaign has raised over $75,000.
On Thursday, May 22, 2014 at 5:00 Eastern, Church organist Scott Mills will join me for a live discussion about the campaign and the organ. Tune in then to watch the interview live.
You can download an audio podcast here or subscribe via iTunes.
More about the First United Methodist Church of Salt Lake City:
First United Methodist Church of Salt Lake City is home to a true community treasure. Our pipe organ is the oldest organ containing more of its original components in their original location than any other organ in Utah, Idaho and Nevada. The organ, constructed by noted builder George Kilgen and Sons Organ Company of St. Louis, Missouri, was installed in 1906 and originally contained 33 ranks of pipes. Today, 17 of those ranks are in working order. Our vision is to restore the amazing piece of living history to its full capabilities and make our sanctuary a welcoming space for the community to come together. The organ will be restored with pipes and components from another historic organ from the early 1900s, the Austin/Kimball organ that was originally housed in the American Theatre on Main Street in Salt Lake City, Utah's largest silent movie theatre during its time. Bigelow and Co. Organ Builders of American Fork, UT has been contracted to do the organ renovation. The completed organ will have around 3,300 pipes – a vision that gives our campaign its name.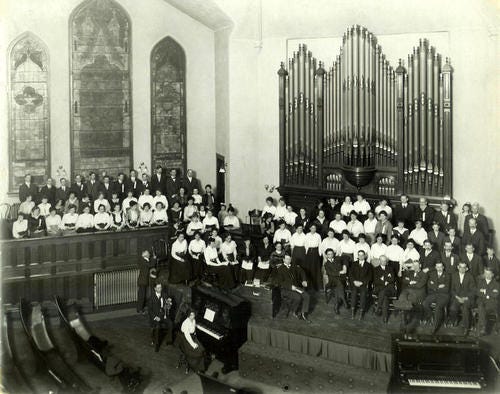 Scott's bio:
Scott R. Mills is the Coordinator of Music Ministry and Principal Organist at First United Methodist Church in downtown Salt Lake City. He is a graduate of Brigham Young University in Organ Pedagogy. His teachers were J.J. Keeler at BYU and Arnold Bullock at Arizona State University. While attending BYU, Scott performed several recitals on Temple Square as a guest organist. He has taught piano and organ since 1976. He has judged with The National Guild of Piano Teachers and other organizations since 1982. Scott has served as a Dean of the American Guild of Organists (AGO) and Chair of the National Guild of Piano Teachers in Utah Valley. He was also the sub-Dean for the Salt Lake Chapter of the AGO from 2009-2011.
The post First United Methodist Church of Salt Lake City Crowdfunds Organ Repair appeared first on Your Mark On The World.