Film Celebrating Girls From Around The World To Be Screened In SLC
The Salt Lake City Chapter of Oxfam America will screen the critically acclaimed independent film Girl Rising on Saturday, July 20, 2013 at Fort Douglas.
Girl Rising profiles nine girls from around the world, impoverished, enslaved and unwilling to accept the roles they were expected to fill. The film features voice performances from Anne Hathaway, Meryl Streep and Selma Hayek.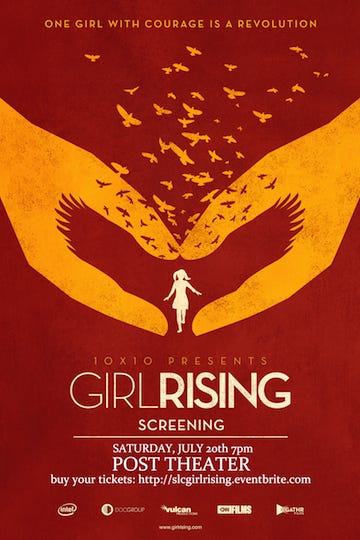 Meryl Streep said, "This film gives visual corroboration to knowledge we already have: Educating women and girls has the most optimistic, positive effects on families, communities, and economies worldwide. If to see it is to know it, this film delivers hope; reasonable, measurable, tangible hope that the world can be healed and helped to a better future."
The screening of the film will be a fundraising event for Oxfam Salt Lake City, a grassroots organization supporting Oxfam America's fight against hunger and injustice all around the world.
Kristen Bayles, the President of Oxfam Salt Lake City, said, "We are excited to bring this film to Salt Lake; we are confident that this film will inspire everyone who sees it."
Tickets for and more information about the screening are available online here.
Oxfam America is a global organization working to right the wrongs of poverty, hunger, and injustice. We save lives, develop long-term solutions to poverty, and campaign for social change. As one of 17 members of the international Oxfam confederation, we work with people in more than 90 countries to create lasting solutions.
Oxfam Salt Lake City is a grassroots, all-volunteer organization that raises money to support Oxfam America and its mission to end poverty, hunger and injustice.
The post Film Celebrating Girls From Around The World To Be Screened In SLC appeared first on Your Mark On The World.