Entrepreneur Sets Out To Make Life Good
David J Wudyka, founder of Make Life Good is raising money on Kickstarter to fund the social enterprise's launch.. Recently, we connected with her to learn about the effort; here's what she told us.
What is the social benefit you hope to achieve with or through your crowdfunding campaign?
We came up with the idea to created The Make Life Good Company because we believe the world needs to be a better place, especially for people who are suffering in some way, who's life isn't good.

The idea for our business began in the fall of 2011 when we realized that millions of Americans were still suffering from the negative effects of the Great Recession of 2008. So many of them lost their jobs, their homes, their businesses, couldn't afford to feed their families with so many becoming homeless. We thought that if we could all do something to help these people in any way, it would be worth the effort.

That's when the idea for "Make Life Good!" began. We thought that if we could spread messages that suggest positive good deeds, behaviors and acts of kindness, maybe we could help Make Life Good! for anyone and everyone in our way.

This has evolved into and now become the mission of our start up, which is to remind, encourage and inspire people to Make Life Good! for others through the messages on our apparel and other products we offer.

In addition to our "Make Life Good!" message and logo, which features our trademarked phrase of "Make Life Good!" that includes a graphic of hands reaching up or out (to convey reach out to help someone), we plan to add what we call "secondary messages" in the future. These secondary messages communicate specific actions people can take when they see others wearing or with our products, like "Imagine," "Make A Difference," "Give," "Spread The Word," "Pay It Forward," "Teach," "Stand Up," "Come Together," "Adopt," "Support Our Troops," "Help The Homeless," "Make It In America," "Dance, "Entertain," "Lead," among many others.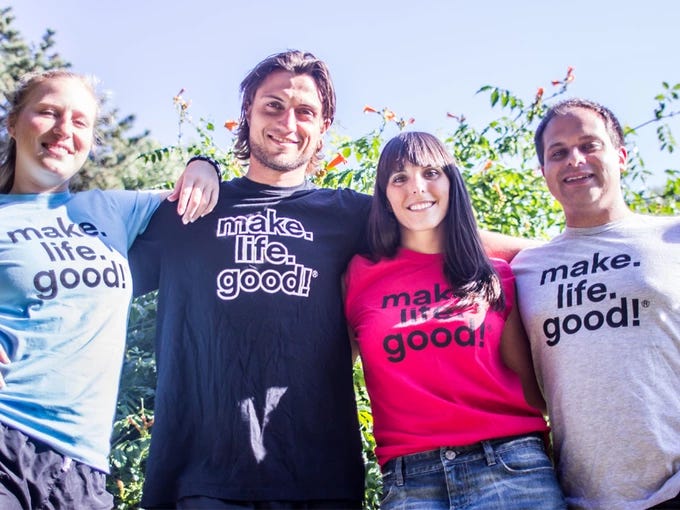 How much money are you hoping to raise and why? How much have you raised so far?
So far, we have raised almost $2,900, or just about 60 percent, of our goal of $5,000, from 57 backers, through our Kickstarter campaign, which ends on June 21st. So we have about two more weeks to raise the remaining $2,000.

We plan to use the funds to fulfill our orders as well as to create more "Make Life Good!" designs that include a few of our secondary messages.

We've already invested quite a bit of our own money to develop and trademark "Make Life Good!? and create our logo, along with photography, producing our website, and manufacturing some of the products we currently offer in low quantities. If we raise more than our goal, we will develop more design and invest in marketing activities to grow our business.
Whom are you trying to help with your project and why?
We are trying to reach everyone because all of us can do something to Make Life Good! for someone else, even if it's as simple as a smile or a friendly greeting or a bit bigger like helping the homeless or giving to the poor. Specifically, we hope to reach socially conscience people who care about social issues and doing social good. So we view these people in particular, who wear and buy our products, as our ambassadors, urging the people who see our messages to do something that makes life good for others.

It's really a very simple concept. When one wears, for example, our silicone wristband or t-shirts, they become more aware and mindful of doing good. Specifically, some have even told us that they restrain themselves from being harsh, disrespectful or even a jerk when they wear our products. It makes them think long enough to be kind and patient rather than rude.
What rewards, if any, are you offering to your supporters?
Our rewards include the following:

– $1.00 = a postcard with our logo

– $5.00 = a silicone wristband with "Make Life Good" on the outside and "remind," "encourage" and " inspire on the inside of the wristband

– $5.00 = a static window sticker with our logo

– $10.00 = a mousepad with our logo

– $10.00 = an acrylic keychain with our logo

– $10.00 = a sports water bottle with our logo

– $15.00 = ceramic coffee mug with our logo

– $19.00 = tumbler travel mug with our logo

– $23.00 = heather grey t-shirt with our logo in grey

– $29.00 = black or royal blue t-shirt with our logo in three colors

– $49.00 = 8″ x 12″ canvas wall are with our primary message and some of our secondary messages
Check out the campaign:
Visit the website.
Follow on Facebook.
Follow on Twitter at @MakeLifeGood2
The post Entrepreneur Sets Out To Make Life Good appeared first on GoodCrowd.info.