Entrepreneur Launches High Impact Nonprofit Without Giving Up Career
This post was originally produced for Forbes.
"Somebody ought to do something about that." If you're like me, you've said that–if only to yourself–on occasion. The most successful people in the world seem to be the ones who don't. Instead, they do something.
Most of us aren't willing to give up our careers to "do something" to solve a social problem, especially if there is no good answer to the partner question, "What's in it for me?" Mellanie True Hills, a professional speaker who has earned the National Speakers Association's Certified Speaking Professional designation, recognized a problem and created a nonprofit to address it without giving up her career.
Hills launched her nonprofit, American Foundation for Women's Health, which in turn runs StopAfib.org, after having a near-death experience resulting from atrial fibrillation or "Afib." StopAfib.org is a patient-to-patient organization that works to help those experiencing Afib to advocate for themselves with the healthcare community to get the best possible outcomes.
StopAfib.org operates on an annual budget of approximately $500,000, she says. The revenue comes from donations from individuals, corporations and foundations. With a small staff, the organization has been able to drive significant impact by partnering with other organizations and advocating at the national level. For instance, Hills was a driving force in the creating and national recognition of Atrial Fibrillation Awareness Month.
Hills says she is on a mission. "My mission is to rid the world of strokes caused by atrial fibrillation through raising awareness of it and through educating and supporting those living with it."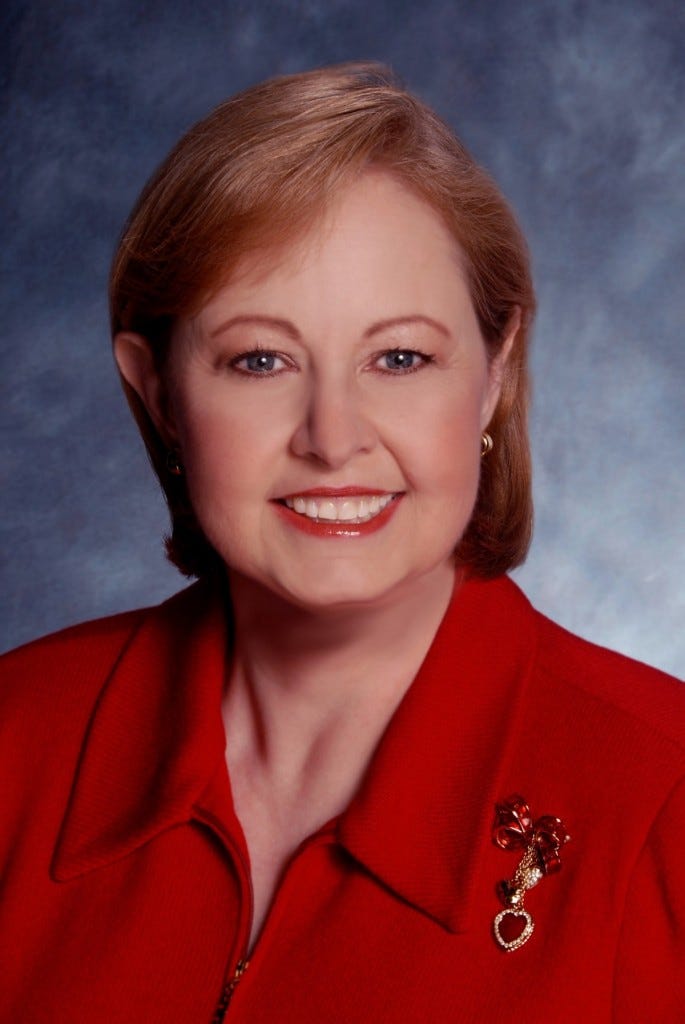 Mellanie True Hills, courtesy of StopAfib.org
"Approximately 30 million people worldwide have atrial fibrillation (AF or afib), an irregular heartbeat that causes strokes, heart failure, dementia, and even Alzheimer's disease. Afib-related strokes are twice as deadly as other strokes (because the clots are huge), and three times as deadly as other strokes in the first 30 days," Hills says, highlighting the reasons that understanding Afib is so important.
Hills notes that there is another problem. "Many people may not even know that they have atrial fibrillation, especially the silent form of it. Thus, they may be time bombs walking around waiting to go off." This makes awareness particularly important as people who don't know they have Afib certainly aren't getting the treatment they need.
Hills' work began with the Atrial Fibrillation Awareness Month she helped to create in 2007. Since then, StopAfib.org has organized or helped to organize conferences and roundtables on the topic to educate patients. She says, "StopAfib.org convened the First National Atrial Fibrillation Health Policy Roundtable in Washington, DC, which brought together patient organizations, medical societies, government agencies, and payers to surface issues and work together to address them."
The young organization has had outsized impacts by partnering with other organizations. She says, "We have worked in conjunction with medical societies, such as the Heart Rhythm Society (electrophysiologists), the American College of Cardiology (cardiologists), and the American Heart Association (heart doctors), to get Congress to introduce Resolutions related to Atrial Fibrillation."
The last effort brought an interesting connection with the world's most famous romantic balladeer. "It was in conjunction with this that I had the opportunity to follow Barry Manilow in front of members of Congress to thank the Senate for passing the AF Resolution and to ask the House of Representatives to do so," she says.
StopAfib.org has had an impact globally, not just in the U.S. Hills notes, "Globally, we have been part of the Action for Stroke Prevention Coalition of medical societies and patient organizations, working together around the globe to develop stroke crisis reports and work with policymakers to elevate atrial fibrillation and strokes on national health policy agendas in Europe, Latin America, and Asia Pacific."
The organization, working with others, is focusing more attention on those who may have Afib and not know it. As part of an international effort called AF-Screen International, StopAfib.org has worked to poll 3,000 patients to better understand the problem. Hills admits the organization now faces a challenge: "tackling healthcare systems at the country level to get them to address this problem" by requiring and funding screenings.
Pegine Echevarria, a prominent member of the National Speakers Association and Hills' professional colleague, says she has been successful because she is focused. She adds, "She is influencing those who serve in the StopAfib community through education, tireless advocacy and intense research. She is a powerful matriarch within the community, relentless, passionate and fierce in her mission."
Linda Swindling, JD, CSP, professional speaker, author of several books, is also a professional colleague. She's known Hills for over 20 years and so has seen StopAfib.org grow from its seeds with Hills in the hospital nearly a decade ago. She's seen the impact her work has on individuals.
Swindling says, "Personally, I've seen the impact this vital information has had on friends and families. My father is a heart patient and I know how important great advice is. When one of my friends needed information quick on her own condition, Mellanie came to the rescue. She not only gave my friend tools, information and talking points, she got on the phone and discussed questions to talk over with my friend's medical team. Interesting that this intelligent communication about the heart is created by someone whose brilliance is supported by her big heart."
Hills sees her work as a way for her to save lives and help people avoid the tragic complications of strokes even when they are survived. "Through awareness, and getting people diagnosed and treated before they have a stroke, we can decrease the number of Afib-related strokes worldwide. That decreases overall healthcare costs in a time where healthcare resources are more and more precious; even more importantly, people with afib can continue to be productive members of society, and their family members are not relegated to being caretakers for stroke victims."
On Wednesday, September 14, 2016 at 1:00 Eastern, Hills will join me here for a live discussion about her remarkable dual career and the impact she is having on the world through her nonprofit work. Tune in here then to watch the interview live. Post questions in the comments below or tweet questions before the interview to @devindthorpe.
The post Entrepreneur Launches High Impact Nonprofit Without Giving Up Career appeared first on Your Mark On The World.