Embrace: Healing Our Heroes' Homes
Guest post by Sean Sheppard, Founder of Embrace.
Growing up as an only child, I was accustomed to thinking only about myself, and through high school, college and graduate school, I was completely self-absorbed. My friends and I were womanizers, we smoked pot, sold pot, partied, and fit the bill of your typical "college party-goers." This selfishness eventually took a toll on my overall well-being, and I came to a point in my life where I looked at the worst part of my day was the point where I left the house to deal with other people. I was in an extremely negative place at the time and focused on everything I didn't have. As the economy downturned, so did my personal finances and my Columbus, Ohio rental property went into foreclosure. What I thought was bad before, was nothing compared to this. I turned to God for guidance and strength, and began spending my time at the Salvation Army helping the homeless. During my time volunteering, I came to the realization that people had it a lot worse than I did, so I decided it was time for me to make a positive change, not only for myself, but for the community. For the first time in a long time, I gradually started feeling better about the person I was. With barely any money of my own, I found joy in giving back to my community and helping the less fortunate. I had discovered my true calling in life, and slowly but surely, I was able to get back on my feet.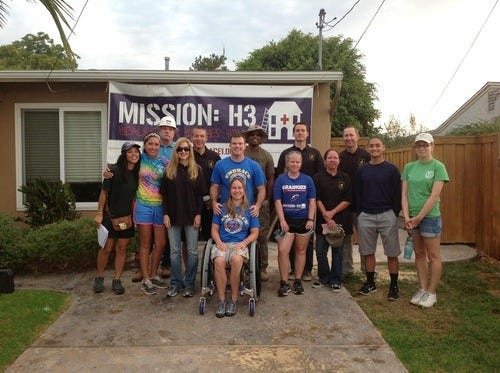 Volunteers stand with Sarah and Matt Bettencourt outside of their renovated home.
In 2008, when the economic downturn took effect, I saw "everyday people" lose their jobs, resulting in a rise in homelessness and closure of many non-profits. With little money to my name, I provided food and water for people living in the street, but I still felt I could do more. That year, Embrace (‪http://www.embrace1.org), a San Diego based non-profit organization that I founded in 2000 that mobilizes college students to serve less fortunate civilians and veterans, launched a homeless outreach program called Embrace The Streets. An organization that started with no venture capital and no full time employees has grown exponentially since 2008. We now have several full and part time employees, literally hundreds of regular volunteers and a 6-figure operating budget.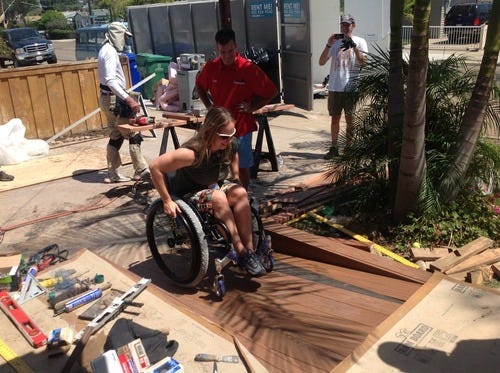 Sarah Bettencourt wheels herself up the brand new ADA compliant disability ramp. Sarah's husband will no longer have to carry her into their home.
I knew Embrace would be able to serve more people if I recruited others to join me, and in the last few years college student volunteers have allowed Embrace to flourish by injecting tens of thousands of community service hours into the city of San Diego's homeless, low income and disabled veteran communities.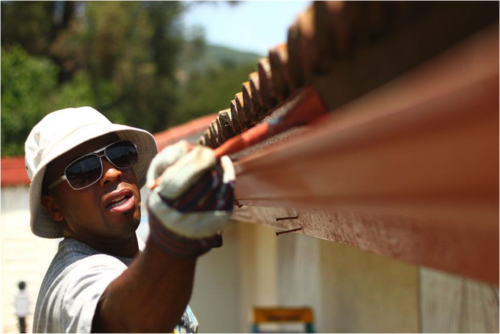 Embrace founder, Sean Sheppard
The Healing our Heroes' Homes (H3 for short) campaign is one of our programs that helps disabled veterans remodel their homes and rebuild their lives. On our most recent mission, we helped retired Marine Captain Sarah Bettencourt, a 100% disabled military veteran.
Bettencourt, a 29 year-old medically retired Marine Corps Captain, served the country during the Global War on Terrorism. She was one month away from being a designated Naval Aviator when she developed a rare neurological disorder in 2008. Despite her disability, she continued to serve in the Marine Corps as an Adjutant until symptoms ended her service in 2012. Today, Sarah struggles with day-to-day tasks due to her unstable mobility, cognitive and central nervous system.
Sarah was the perfect candidate for Embrace's Healing our Heroes' Homes campaign due to her charismatic personality and positive outlook on life despite her disability. This past July, Embrace was able to extensively remodel her home with the help of student volunteers, volunteer contractors and sponsors including SDG&E, The Home Depot Foundation and the Jack in the Box Foundation. By remodeling the kitchen, building ADA compliant wooden and concrete wheelchair ramps, widening doorways, creating an ADA compliant driveway and landscaping, Sarah is now able to move freely through her home and perform daily tasks she was unable to do before. In short, her sense of independence is back.
Touching the lives of people such as Sarah is a constant reminder of the amazing things people can do while working together. In the last 13 years, Embrace has exceeded my expectations, and I am certain that the college students, volunteers and sponsors that donate so much of their time will help the organization continue to achieve great things in the future.
For more information about Embrace, visit ‪www.embrace1.org
The post Embrace: Healing Our Heroes' Homes appeared first on Your Mark On The World.