Eliminating Our Carbon Footprint Goes Beyond Recycling
This is a guest post from Carlton Solle.
The recent Carlsbad plutonium spill shed light to the Department of Energy's $5 billion pledge to clean up nuclear waste, putting into question the legitimacy and effectiveness of the department's budget execution.
Meanwhile, many reports say consumers are recycling only 20% to 30% of plastic bottles, leaving 200 billion plastic bottles around the world ending up in landfills, beaches, rivers, and oceans every year.
To call it a problem is like calling BP Oil Spill a "situation."
This all begs the question of who is responsible for the well-being of the planet, and how can government, businesses, and consumers share the responsibility? While the D.O.E shuffles to clean up its own messes and lobbyists push for relaxed regulations, consumers in a free market are left disempowered to exert influence upon the bottled water industry to take responsibility.
Yes, we have companies like Crystal Geyser and Poland Springs reducing the amount of plastic in their bottles under pressure from media pushback and because it boosts their bottom line and is good PR. Yet this reduced amount of unnatural plastic is still accumulating on top of what already persists out in ocean waste patches. That's before we even mention the collateral air pollution released by the machines that produce plastic products in the first place.
In truth, the responsibility for protecting and restoring the environment lies with all of us. The government has played its part in making the mess, and so have plastic companies and we as consumers. Complex problems require cooperation. Ideas and approaches that may seem unorthodox at first can ultimately inspire others to change their behaviors because the idea works. You don't change hearts and minds by telling people what they "should" do. You affect change by showing that there is another way, a better way that allows people to make simple choices that may not require them to change their lifestyles.
Although no company has completely eliminated its carbon footprint, a truly sustainable business model requires a complex, holistic set of practices. It starts with materials – using planet-friendly materials that do their job, ship well and minimize packaging weight is a good start. Finding a way to take the bottles after use, ensuring those products don't end up where they shouldn't, is a significant step further in owning our environmental responsibility.
Although we have yet to master a solution, I started Treeson Spring Water with the intention to take a giant step in the right direction. By not only using planet and people friendly materials in our bottles, we are teaming up with the US Post Office to allow consumers to mail their bottles back to our headquarters. Upon return we will convert the bottles into clean energy that is used to make more bottles – "Recycling 2.0", a proprietary system incorporating the USPS to offer consumers a way to guarantee that their bottles won't end up where they don't want them to.
This is a bold idea that deserves attention and it could just be the one that starts to move the dial back on the amount of plastic pollution entering the environment.
Treeson's water bottle might not "save the planet" overnight, but it's a positive start. Start with bottled water and then sodas, juices and all the rest. It's an idea that puts the power into the hand of the shopper buying their water and gives them a choice that they can feel good about making. Let us take responsibility where we can, and encourage others to pick it up as well.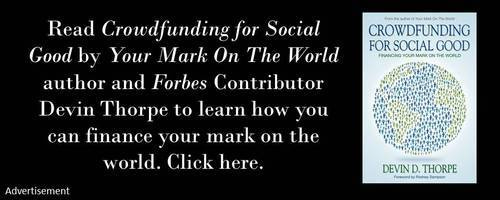 The post Eliminating Our Carbon Footprint Goes Beyond Recycling appeared first on Your Mark On The World.