Debt Crowdfunding Site Deal With Institutional Investor Portends Industry Growth
This post was originally produced for Forbes.
Debt crowdfunding site Dealstruck recently announced an arrangement with peer-to-peer loan fund Direct Lending Investments. In order to better understand the import of the arrangement, I reached out to the leaders of both companies to get a sense of what the deal means for social entrepreneurs and other seeking growth capital.
Ethan Senturia, the CEO of Dealstruck, noted, "For the first time, a crowdfunding partnership is addressing the actual lending ecosystem, offering small businesses not only a term loan product, but now also a working capital line of credit (which most small businesses have asked for but no platform has offered until now). This allows not only high growth startups to benefit from crowdfunding, but also the main street businesses that have revolving capital needs."
He went on to say, "Dealstruck and DLI are making a prime product (revolving credit line) available down-market to businesses that don't meet the credit or size standards of traditional bank or ABL lenders. The result is that they will be able to step off unhealthy products, build business credit, and graduate through to better and better options."
The implication of the new arrangement seems to be that more sophisticated money is beginning to seek out opportunities to invest alongside the crowd to bring more capital and more credit products to the SMB market.
Brendan Ross, founder and president of Direct Lending Investments, agrees, "This partnership connects investors directly with qualified business borrowers and is indicative of the vast changes occurring in the capital markets, on both the debt and equity sides of the equation."
The problems of accessing capital may be greater for social entrepreneurs.
Senturia recognizes the challenges social entrepreneurs face, "Mission-driven entrepreneurs are still entrepreneurs, and they face the same struggle for capital access as those with an exclusive profit motive. In fact, many times it is harder for them to access capital because they are not purely focused on profit maximization."
The news of the deal bodes well for social entrepreneurs, Ross says, "This partnership will ultimately make more capital available to those businesses that are the driving force behind economic growth and job creation in this country. Peer-to-peer lending is the vanguard of Silicon Valley's attack on New York, Charlotte, and other centers of retail lending that are currently underserving the small business and consumer lending markets. "
The best news of all is the indication that the more capital may be available to entrepreneurs, that this deal is evidence of a trend. Ross noted, "As more investors–be they institutional or individuals–see both the social and financial value of investing in local businesses, I anticipate this industry to grow substantially and develop even more ways to satiate the financing needs of the small business community."
Ross also points out that this isn't his firm's first such deal, "This is the third such partnership Direct Lending Investments has signed with online/peer-to-peer lenders, the others being IOU Central and Quarterspot."
Senturia says he sees himself as a social entrepreneur, "Our purpose for existing is to provide fair, transparent, affordable loan options that put small businesses on a path to bankable. In that sense, Dealstruck itself is run by mission-driven entrepreneurs, so we have respect, admiration, and an exceeding desire to help those pursuing financial dreams and making the world a better place at the same time."
In the UK, where investment crowdfunding has been legal for some time, it is reported that lending models have scaled much more quickly than equity models. Perhaps we are seeing the first sign that the same pattern may emerge here in the U.S.
It is important to remember that we are still in the early days of the development of the investment crowdfunding ecosystem here. Title III of the JOBS Act, which formally authorizes it subject to the issuance of regulations by the Securities and Exchange Commission, has not yet been implemented. The SEC is expected to issue final regulations within the next 90 days.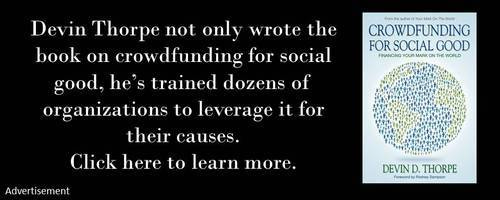 The post Debt Crowdfunding Site Deal With Institutional Investor Portends Industry Growth appeared first on Your Mark On The World.