Dean Kamen: We Can Solve Big Problems With Technology
This post was originally produced for Forbes.
Dean Kamen doesn't waste his time on problems that don't need to be solved. Early in his career he invented the first infusion pump for delivering medicine. The company he built around it has made him wealthy and he's spent the rest of his career working–rather successfully–to repeat the success. Though he may be most well known for the invention of the Segway, his more recent work on the Stirling Engine power generator and the Slingshot water purification system hold promise for the developing world.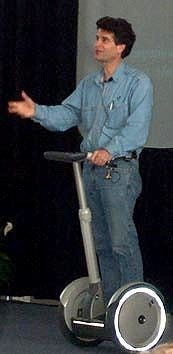 Description: Photograph of Dean Kamen on Segway Scooter speaking at the 4th Annual Assistive Technology Forum, Hampshire College, Amherst, Massachusetts, USA. Source: Photograph taken by Jared C. Benedict on 03 May 2002. Copyright: © Jared C. Benedict. Released under the GFDL by photographer Jared C. Benedict (myself). (Photo credit: Wikipedia)
Kamen was recently honored by The Tech Museum of Innovation and Applied Materials as the James C. Morgan Global Humanitarian Award recipient at The Tech Awards for his work in creating medical devices to address some of the world's biggest problems and for his philanthropic work with FIRST®, a nonprofit he launched and leads that inspires young people to enter the sciences.
On December 13, 2013, at noon Eastern, Kamen will join me for a live discussion about the role of technology in solving big world problems and the pioneering work he now leads at DEKA Research.
Tune in below and listen while you work.
In a statement, The Tech Museum described Kamen's work:
As part of The Tech Awards, inventor and entrepreneur Dean Kamen will be honored with the James C. Morgan Global Humanitarian Award sponsored by Applied Materials. This award honors individuals whose broad vision and leadership help to alleviate humanity's greatest challenges. Kamen holds nearly 500 U.S. and foreign patents for medical devices that have expanded the frontiers of healthcare worldwide. He is also founder of FIRST®, a nonprofit organization dedicated to motivating youth to understand science and technology.

Kamen's DEKA Research & Development Corporation is responsible for breakthrough inventions in medicine and clean energy in addition to providing research for major corporate clients. While an undergraduate, Kamen developed the first portable infusion device to deliver drug treatments that previously required round-the-clock hospital care. Through DEKA, Kamen developed a portable dialysis machine, a vascular stent, and the iBOT — a motorized wheelchair that climbs stairs. Kamen also led teams in the development of devices such as the Segway® Human Transporter, an insulin pump for diabetics, portable energy and water purification devices for the developing world, and a prosthetic arm for maimed soldiers.
This interview is part of a series that will examine what can be accomplished in the fight to solve the world's biggest challenges within the next thirty years. The solution to every big problem also presents opportunities entrepreneurs will exploit to change the world. From this series of interviews, a book, working title: Thirty Years to Peace, will emerge.
Please help me continue this conversation below, on Twitter or on my personal website.
The post Dean Kamen: We Can Solve Big Problems With Technology appeared first on Your Mark On The World.