Dana Ostomel, CEO Of DepositAGift Explains Crowdfunding For Schools
Deposit a Gift is a crowdfunding site used for personal and organizational objectives that has become popular among school communities, whether raising money for teacher appreciation or building science labs.
CEO and founder, Dana Ostomel, will join me for a live discussion about crowdfunding for schools and other organizations on Thursday, June 26, 2014 at 2:00 PM Eastern. Tune in right here then.
You can download an audio podcast here or subscribe via iTunes.
More about Deposit a Gift:
DepositaGift.com is the most customizable and hassle-free crowdfunding website for organizational and personal fundraising. Their all-in-one platform for donations, sponsorships and ticket sales is built to leverage social networks and viral sharing! For anyone looking to raise money and rally supporters, Deposit a Gift offers the perfect way to showcase exactly what you want money for and incite people to contribute. Launched in 2010, Deposit a Gift serves the growing need to raise money online for anything from charitable organizations and disaster relief, to school fundraising, help with medical bills, memorial funds, pet rescue or crowdfunding a business or personal project. To learn more and start your fundraiser today, visit: http://www.depositagift.com.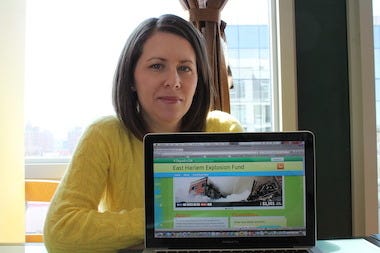 Dana Ostomel
Remember to "join the cavalry" by subscribing to Devin's content here.
The post Dana Ostomel, CEO Of DepositAGift Explains Crowdfunding For Schools appeared first on Your Mark On The World.