Crowdfunding leaps forward beyond hype to solve big world problems
This story was originally produced for Forbes by GoodCrowd.info editor Devin Thorpe.
Much of the hype around crowdfunding has frustratingly proved to be so much hot air. The United Nations Global Compact and the U.S. State Department are working to change that by bringing crowdfunding forward to finance projects in the developing world, especially projects designed to address the social problems endemic there.
U.S.-based crowdfunding site Gate Global Impact is partnering with the UN Global Compact to launch Gateway 2.0, a site that will allow members of the UN Global Compact's Social Enterprise Hub to access capital of from $500,000 to $10 million.
Rosedel Davies-Adewebi, project manager for social enterprise and impact investing at the UN Global Compact, explains, "Through this innovative partnership we hope to advance this form of equity crowdfunding as a new approach to impact investing, address gaps in the missing middle of finance and connect capital to impactful businesses addressing critical areas related to the UN-Post 2015 agenda."
Similarly, the U.S. State Department will soon launch a partnership with the crowdfunding site RocketHub to accelerate social impact projects from 60 countries around the world.
On Thursday, July 10, 2014 at 1:00 Eastern, Davies-Adewebi, Vincent Molinari, CEO of Gate Global Impact, and Daniella Foster, the director of public-private partnerships for the U.S. State Department, will join me to talk about the potential for crowdfunding to play a critical role in international development and the eradication of poverty. Tune in here then to watch the interview.
More about the UN Global Compact:
The UN Global Compact is a strategic policy initiative for businesses that are committed to aligning their operations and strategies with ten universally accepted principles in the areas of human rights, labour, environment and anti-corruption. Endorsed by chief executives, the Global Compact is a practical framework for the development, implementation, and disclosure of sustainability policies and practices, offering participants a wide spectrum of workstreams, management tools and resources — all designed to help advance sustainable business models and markets.

To further promote the advancement of sustainable business models, the UN Global Compact has launched a workstream focused on the concepts of Social Enterprise and Impact investing. The aim of the workstream is to build an enabling environment for corporations within the Global Compact, investors and social enterprises that will facilitate the formation of partnerships designed to advance innovations addressing development challenges.
Davies-Adewebi's bio:
Rosedel Davies-Adewebi is the Project Manager for the Social Enterprise and Impact Investing workstream of the United Nations Global Compact. The workstream is designed to build an enabling environment to support the formation of partnerships among social enterprises, corporations and investors . The partnerships have the aim to advance innovations addressing global development challenges. At the UN Global Compact, Rosedel is responsible for setting the strategic direction of the workstream and leading its operations globally.

Rosedel has spent the last eight years developing programs and managing projects designed to connect social innovators with financing and technical assistance to scale impact. Prior to joining the UN Global Compact, she served as a consultant on impact measurement data to the Global Impact Investing Network (GIIN). Rosedel's other professional experience includes developing the investment strategy for a seed fund providing financing for maternal and child health innovations at the Tony Elumelu Foundation, a Lagos, Nigeria based foundation. The seed fund served as the foundation's commitment to the United Nations Secretary General's Every Woman, Every Child Campaign. In addition to this, she worked with Project Enterprise, a New York City based- micro-finance fund to grow their loan portfolio. For her work at Project Enterprise, she received the United Way's Emerging Junior Leader Fellowship in 2007.

She began her career in 2003 as a commercial banker for Wachovia and served on the team responsible for launching Wachovia's first commercial operations in New York City.

Rosedel received an MBA from the University of Michigan's Stephen M. Ross School of Business, where she was a recipient of the Consortium for Graduate Study in Management Scholarship and served as a fellow on the Frankel Commercialization Fund, a student-run pre-seed venture fund. She also holds bachelors' degrees in Economics and International Relations from Boston University.
Foster's bio:
Daniella M. Foster is a policy innovator and social entrepreneur. She has worked in government, business and the non-profit sectors. Ms. Foster serves as a Director of Public-Private Partnerships at the U.S. Department of State, where she leads the establishment of partnerships which commit skills and capital for social impact projects in over 165 countries.

She previously served as the Chief of Staff for the Secretary of State's Senior Advisor for Civil Society and Emerging Democracies, where she managed the work of the office to implement policy initiatives and partnerships designed to strengthen emerging democracies and civil society worldwide. She has spearheaded a variety of Presidential initiatives, including global public-private partnerships that help grow small and medium businesses, connect entrepreneurs from around the world, and develop job skills via mobile technology.

A respected authority on strategic partnerships, Ms. Foster has worked in six continents, tripling growth in agreements with Fortune 500 companies and international organizations, and was named one of the Diplomatic Courier's "Top 99 Under 33 Foreign Policy Leaders" and featured in Washington Life Magazine as one of Washington's most influential leaders in 2013.

She is passionate about social entrepreneurship and serves as the CEO and Co-founder of the Emergent Leaders Network (ELN), a non-profit that provides scholarships and mentoring to community college students. She currently serves on the advisory board for Noodle, the first and only life-long education related search company in the world.

Ms. Foster holds a M.A. in Social and Public Policy from Georgetown University and a B.A. in Intercultural Communications and Business from Pepperdine University.
Molinari's bio:
Vince Molinari has been recognized by Forbes as one of the "Top 10 Most Influential People in Crowdfunding."

The consummate visionary and serial entrepreneur, Vince has always been a driving force in creating new market infrastructure bringing efficiency, transparency and liquidity to the unstructured global alternative asset markets.

Vince's vision of opening the private market for investment can spearhead economic growth and job creation, leading him to be on of the early voices and champions of the recently passed JOBS Act.

Vince's most recent start-up is GATE Global Impact whose mission is based on a core belief that actionable knowledge drives investments, and that technology can close the gap between traditional and emerging alternative markets. GGI is fast becoming the leading electronic marketplace platform that is helping the world's leading organizations tale impact investing to the next level. GGI enables investors to identify and transact in securities, which provide sustainable social and environmental benefits in addition to a financial return by bringing efficiency, transparency and liquidity to historically fragmented processes. GGI partners include the UN, OPIC, Microsoft, Yunus Social Business, Prudential and other leading financial and technology organizations.

Vince is an active speaker on issues related to capital markets and early-stage companies, and regularly speaks at events around the world. He has been invited to testify before the U.S. House of Representatives Committee on Financial Services, Subcommittee on Capital Markets and Government Sponsored Enterprises, and regularly consults with both members of Congress and regulatory agencies on these issues.

Vince is a founding board member of the Crowdfund Intermediary Regulatory Advocates (CFIRA), a self-regulating association that works with governmental and quasi-governmental entities to help establish crowdfunding industry standards and best practices. He is also a co-founder of the Crowdfunding Professional Association (CfPA), a leading trade organization for the Crowdfund industry and sits on the board of CF50 a global think tank of 50 of the leading minds from academia, policy and industry.

Vince is also the founder of Global Access Holdings LLC, a financial media and analytics company, which identified a global trend line of illiquid securities and the potential market need for alternative asset trading platforms. Prior to Global Access Holdings, he was chairman and CEO of Burlington Capital Markets LLC, a financial services company specializing in institutional execution services and investment banking activities. In addition, he co-founded Inculab, a technology business incubator.

Vince began his career at Lehman Brothers Inc., and has held senior positions at Janney Montgomery Scott Inc. and Ridgewood Capital Funding, LLC.

He has been featured on the Canadian Broadcasting Corporation's "Lang and O'Leary Exchange" and been quoted and published in a wide range of business media including the Wall Street Journal, Forbes, Bloomberg News, Advance Trading and Securities Technology Monitor.
Remember to "join the cavalry" by subscribing to Devin's content here.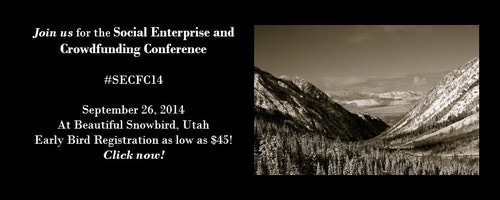 The post Crowdfunding leaps forward beyond hype to solve big world problems appeared first on GoodCrowd.info.