Crowdfunding For Good Now A Growing Global Movement
This post was originally produced for Forbes.
Imagine raising $17 million in one day.
Using the Razoo platform, GiveMN, a statewide crowdfunding campaign for Minnesota nonprofits, did just that on November 14, 2013, when over 52,000 individual donors combined to set a record for the most money raised in a single day through crowdfunding (as far I can tell).
Habitat for Humanity upped its crowdfunding game in 2013, bringing to a total of more than $5 million the money raised at Share.Humanity.org (which is powered by crowdfunding site Fundly).
These are significant signs of the growing movement toward using crowdfunding as a meaningful source of financing for nonprofits.
Last year yielded an estimated $5 billion in global crowdfunding with about 30 percent of that total going to social causes.
But nonprofits aren't the only ones using crowdfunding. With the SEC issuing late in 2013 new regulations under the JOBS Act, which was signed into law in April 2012, crowdfunding of investments is beginning. The general solicitation rules were in effect for the fourth quarter, allowing entrepreneurs and other issuers to publicly advertise securities offerings.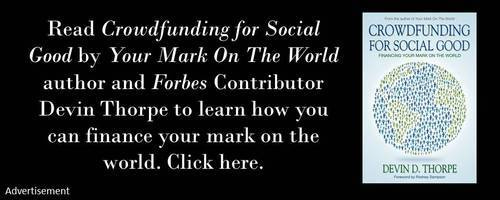 With new rules in place, crowdfunding platforms targeting social entrepreneurs began offering securities in 2013. Sites like MissionMarkets.com, ReturnonChange.com and GateGlobalImpact.com all launched in 2013 or are preparing to launch soon.
This opens the way for social entrepreneurs to raise capital from a new breed of impact investors—everyone! Crowdfund investing allows everyone to back mission-driven businesses. Imagine knowing that your money can not only do good, but also come back to you with a return so you can do it again!
As big as crowdfunding has already become, its potential dwarfs its past. Crowdfunded investments tend to be an average of 10 to 20 times as large as crowdfunded donations. As investment crowdfunding gains traction, its scale will quickly eclipse the scale of donation-based crowdfunding.
Infographicworld provided the following infographic for this article to help share the story of crowdfunding for social impact.

Courtesy of InfoGraphicWorld.
Please help me continue this conversation below, on Twitter or on my personal website.
The post Crowdfunding For Good Now A Growing Global Movement appeared first on Your Mark On The World.