Crowdfunding Becomes Global Phenomenon
This post was originally produced for Forbes.
Crowdfunding itself is going viral around the globe. It seems that everywhere you look, crowdfunding is popping up in a big way. This is top of mind for me as I jump on a plane to Moscow to deliver a keynote address at CrowdMap '14.
Last week, I had the opportunity to visit with Sourabh Sharma, the CEO and Founder of Milaap, a crowdfunding site in India that is using the model created by Kiva, allowing people to invest in micro loans to the poor. Milaap focuses on lending for things that others often avoid, including toilets and education.
Earlier in the month, I had the opportunity to attend and share a few ideas at the Berkeley Symposium on Crowdfunding hosted by Richard Swart. The audience was surprisingly international and it is clear that at least with respect to investment crowdfunding the rest of the world is leading the way. Australia and the UK, with much of the rest of Western Europe following closely behind, launched investment crowdfunding legislation and practice as much as seven years ago. Most recently, I heard at the conference, that Malaysia has just legalized investment crowdfunding.
At the Berkeley Symposium, Swart said, "Since our first conference last year, we have seen an explosion in interest in crowdfunding and alternative finance from policy makers, academic experts, governments and think tanks around the world. As the leading research center in the field we have been privileged to get early access to these new tools and data sets that are shedding light on how this industry is transforming entrepreneurship, innovation and early stage capital formation globally."
A World Bank report prepared by Jason Best, Sherwood Neiss and Swart of Crowdfund Capital Advisors (a one-time sponsor of my work in 2013) indicated that global crowdfunding would reach $95 billion annually. The more I see of crowdfunding globally, the more I think that number is unrealistically low. The Securities and Exchange Commission agrees with the industry that the moniker crowdfunding can apply to investment crowdfunding conducted under Title II of the JOBS Act as implemented under Regulation D 506©, which allows for "general solicitation" of securities offerings under the rule. According to Chris Tyrrell, CEO of OfferBoard, the tally of such deals already reaches into the tens of billions.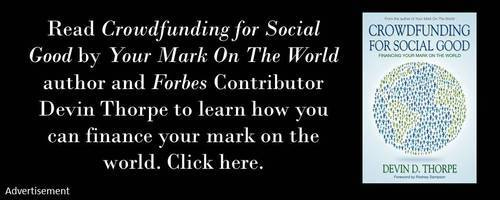 Gust, the angel investor platform that can be counted among the largest accredited investor equity crowdfunding sites, recently announced a partnership with El Observatorio Nacional Del Emprendedor (One). CEO David Rose said in a statement regarding the announcement, "ONE is a key driver in the creation of a successful startup ecosystem in Mexico, and we are thrilled to help contribute to the growth of the startup community and its early-stage investors. Our strategic partnership will enable any entrepreneur and venture capital firm in Mexico to connect and manage the investment relationship, from initial pitch to successful exit." Gust already reports having 45,000 investors from over 100 countries registered on the platform.
Given my focus on social entrepreneurship, I'm most excited to see the impact of crowdfunding on the most disadvantaged in the world. A relatively new platform called KriticalMass, launched from Italy, operates with a U.S. focus, but I discovered a truly global campaign there a few months ago that I covered here at Forbes last month. Alem Mumuni, a Ghanaian paracyclist is training to compete in the 2016 Paralympic Games in Rio and is raising money, with the help of his British coach, Alex Main, on KriticalMass. Mumuni is a polio victim who has recently become a spokesperson for Rotary International's efforts to eradicate polio. This brings together multiple layers of social good brought about through the global expansion of crowdfunding.
While there are a few people left in the U.S. who don't yet recognize the word crowdfunding and haven't even heard of Kickstarter or Indiegogo, the crowdfunding wave is truly becoming a global phenomenon.
Remember to "join the cavalry" by subscribing to Devin's content here.
The post Crowdfunding Becomes Global Phenomenon appeared first on Your Mark On The World.