Crowdera and Umojawa Join Forces on Civic Crowdfunding Platform
Crowdera's new civic crowdfunding platform, initially focused on education-related projects, now welcomes a broad range of civic-minded projects supporting communities worldwide.
San Jose, CA (Silicon Valley) (PRWEB) July 21, 2014 – Crowdera and Umojawa have joined forces on a new crowdfunding platform for civic crowdfunding initiatives across the globe. This move merges the complementary strengths of both companies — Crowdera's product development and technology expertise with umojawa's proven success in funding projects and passion for community building and effecting social change — resulting in a compelling, distinctive crowdfunding experience focused on civic projects.
"Our merger with Umojawa completes our vision for delivering an unparalleled crowdfunding experience," said Rich Matsuura, CEO of Crowdera, who left his leadership role at eBay to create a new movement with Crowdera. "We're building Crowdera to give people the tools and knowledge about how to leverage crowds for things that matter to them."
Crowdera's platform provides a simple, effective way for individuals and organizations to achieve their fundraising goals reaching a far greater audience via social media to build a community of participation and support. Crowdera's platform complements existing fundraising and volunteering activities by offering a user-friendly platform to create visually compelling, viral fundraising campaigns that raise awareness and funding for an individual or organization's needs and dreams. As a "boots on the ground" organization, Crowdera supports organizations and individuals to create movements that seed changes they find important in their world.
"Ours is a perfect marriage of values and vision. Umojawa's focus has been on building movements by empowering individuals and organizations serving youth and their communities in the United States, Africa, and Haiti to bring about changes that have significant impact," said Stephanie Jelley, co-founder and CMO of Crowdera and former CEO of Umojawa.
Founder Chet Jain agrees. "Stephanie and I met at the second annual Silicon Valley Crowdfunding Conference; it was random and so serendipitous. Our values and goals to make the world a better place were in perfect alignment, and the strength of our organizations complemented each other so well, including our geographic impact," Jain said. Crowdera has had positive impact through its work in India, complementing umojawa's extensive North American focus.
Crowdera will showcase their platform at Kickercon 2014 in Houston, TX in late August. Jelley will speak at the Kickercon conference on "Civic Crowdfunding TownMeet by Kickercon" and will serve as moderator for a session on specialized portals for crowdfunding.
Benefits of using Crowdera for civic crowdfunding:
Used strategically, civic crowdfunding helps schools and other non-profit organizations build meaningful engagement, spread their messages, and expand their donor base to increase their overall funding and impact.

Crowdera civic crowdfunding helps those with limited resources to support projects in their communities and schools that inspire them. Microdonations, as little as a dollar, build community.

Crowdfunding gives those with limited time an opportunity to support something bigger than themselves. #CommuntiyEngagement #SocialGood
Remember to "join the cavalry" by subscribing to Devin's content here.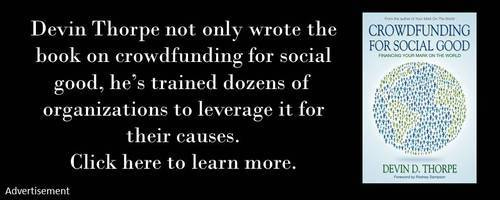 The post Crowdera and Umojawa Join Forces on Civic Crowdfunding Platform appeared first on GoodCrowd.info.