Creating Change in Haiti
Guest post from Andy Jeanty of Cutco.
On January 12, 2010, a massive earthquake struck the already fragile and impoverished island of Haiti, which also happens to be my homeland. I live in South Florida now, and like many people in the United States, I watched the destruction with deep sadness in my heart. But it wasn't until fate intervened that I realized I didn't just have to sit back and watch as a helpless spectator; I had the power to become involved and facilitate change.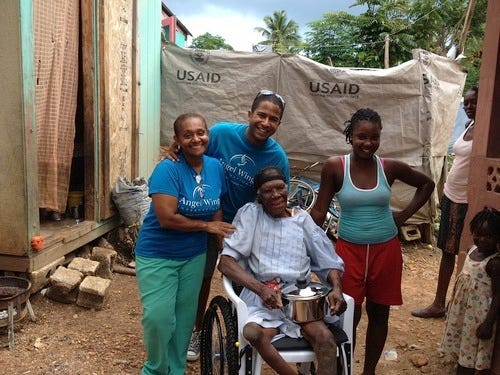 That realization came shortly after the hurricane struck, when I received a call from my number one client, a nurse named Myrlande Affriany (I am a Cutco Sales Professional/Senior Field Sales Manager in South Florida for Vector Marketing Corporation, the direct sales division of Cutco Cutlery Corporation). Myrlande is a native of Jacmel, Haiti, who lives in the United States. In 2007, Myrlande founded a non-profit organization called Angel Wings, which is dedicated to providing much needed medical care to the impoverished citizens of her home country. Myrlande is truly an angel herself.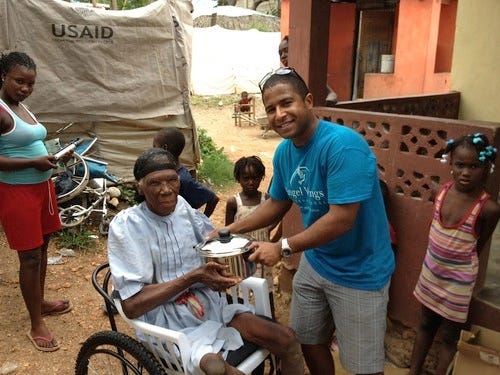 After the earthquake, Myrlande brought 23 doctors to Haiti on a chartered private plane so that they could provide much-needed medical care. However, when they arrived, the charter company informed her that the price she paid was for a one-way trip! Someone else had booked the trip, and Myrlande had of course assumed that they had paid for a round-trip. The person who booked it denied any knowledge or wrong-doing. Now, she and the 23 volunteer doctors were stranded in Haiti with no money to return. She called me for help, stunned and crying, and asked if I could connect her with someone who could transport her and the doctors back home.
At this time, I had known Myrlande for seven years, and could not turn my back on her or the amazing work she was doing, so I called a good friend of mine in the Cutco Business named Carl Drew. Between all of our efforts, we found a military transport that agreed to take the Angel Wings group home free of charge.
This was a turning point for me; it was the time when I realized that I DID have the power to help, and that I could do even more. Even though I wasn't a doctor or nurse, I could provide valuable help in other ways. For example, in February 2010, I had watched Anderson Cooper and a team of his people in Haiti donating food, but because nobody on his team spoke Creole, the local people thought they were BEING POISONED! I speak four languages—English, French, Creole and Spanish—and I knew that I could have provided an important communication bridge.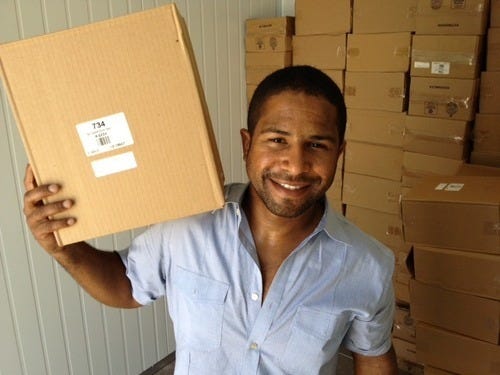 It was then that I decided to accompany Angel Wings on a trip to Haiti. I also asked five of my closest Cutco friends to come, and to my delight, they jumped right on board with the idea! So off we went at the end of March 2010, and when I left eight days later, I was so moved by the impact we had made that I knew I could do even more. The dream of Angel Wings was to build a hospital in Jacmel, which of course takes a lot of time and money. But Carl Drew and I thought: what if we could more quickly create a clinic that could provide quality health care to these needy people on a daily basis?"
We asked the powers-that-be at Cutco if we could share our dream, along with a video, at their upcoming annual sales representative conference in May 2010. They are a very giving group of people and of course said "yes." Within 48 hours of showing the video we had raised $50,000 from Cutco sales reps! This was when we realized that we weren't alone.
We bought a half acre of land in Jacmel and got right to work. The first thing we did was hire an architect and a company that could build a clinic with insulated panels capable of withstanding up to a Category 5 hurricane as well as a strong earthquake. Our goal was to build something virtually indestructible and we didn't waste any time. We broke ground on the clinic in November 2010. In that same year, we also participated in nine medical mission trips with Angel Wings. During each trip, the group treated between 300-500 people.
It's challenging enough to raise money and facilitate such a project close to home, but it is even harder doing it far away from where you live. It's a huge project, but it has been worth every minute.
We finished the first phase of construction in 2012. We are now doing the finishing touches, such as the cabinetry, plumbing and electricity. During a recent health care day, we treated 300 people—a reminder of the great need for such a clinic.
I am so excited, as this fall we will open one day a week while we finish up the plumbing and electricity. This alone costs $50,000, because of course in a medical setting it must be done right.
Since the mission is to provide health and hope for the people of Haiti, we wanted to also create jobs, so we hired local workers to do the construction. It is so nice, because now we really have a community of people who support us there, and when we go we feel like we are at home.
Before we arrived in Jacmel, one of the construction workers lived in a tent with his wife and three kids. Now, he was able to buy a small house with the money he made helping construct the clinic. It is this type of positive effect on such wonderful, caring and hard-working people that makes it all worthwhile. Just like the rest of us, they have dreams to take care of their families and to live worthwhile lives.
If I can convey one message through this post, it is to never, ever feel helpless or to make excuses. I was just 30 years old when I began this project, but I did it. Discover what touches your heart, and search within to find the skills and talents you can contribute. Everybody has something they can do to help. It doesn't matter how small you begin; just begin, because you never know where that first step will take you. Be the change you want to see. You have the power to make a difference.
The post Creating Change in Haiti appeared first on Your Mark On The World.