Creating a Website that Encourages Others
This is a guest post from Brian Childs, Managing Editor at Social Work License Map.
The internet can be a lonely place for a blogger hoping to change the world. How do you build an audience? Who are your peers? How do you connect with other creators for inspiration and collaboration?
At Social Work License Map we recently developed a dynamic product, Inspired Advocates, to connect websites working to make life better. Inspired Advocates is a new resource dedicated to creating awareness and community for social justice sites from around the world. Inspired Advocates will also help educate sites on how to grow their presence online through SEO, outreach and social media engagement.
How It Works
Any site can be submitted to Inspired Advocates and all sites will be reviewed and ranked by moderators for quality and relevance before inclusion. Then the submitted site is ranked using an algorithm that measures audience engagement, post frequency, domain authority and more. After this, the site is added to the Inspired Advocates list in a spot that reflects its ranking. Rankings are forty percent based on social media engagement, twenty percent on how frequently the blog is updated, twenty percent on domain authority based on the amount of sites linking to the blog, and twenty percent based on subjective factors such as capacity to inform and site presentation.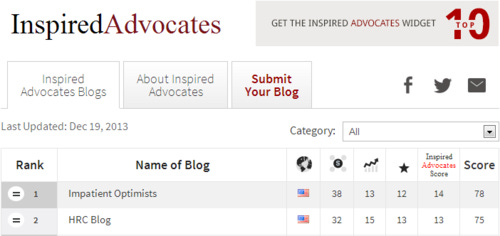 As far as submissions go, we are looking for sites that fit into a variety of categories. The blogs can either give a social work specific perspective on the category or give insight and news related to the issue that patients would find usable. The categories that we look for are as follows:
Abuse: blogs about domestic, child, elder or sexual abuse, or human trafficking.

Addiction: blogs about alcohol, drug, prescription medication, sex, gambling, and other addictions.

Administration: blogs addressing grant writing, program planning, advocacy, and social policy

Bullying: blogs addressing the issue of bullying and how to deal with it.

Children/Family: blogs that address adoption, foster care, divorce, family relationship issues, and other family issues relevant to social work.

Community Organization, Planning, and Administration: blogs that deal with community improvement, including urban development, school improvement, business development, and social work advocacy.

Crisis/Trauma/Grief/Death: blogs that address traumatic events and their effects on victims, as well as provide communities and resources that can help.

Equality: blogs that advocate for and provide news regarding all forms of equality, including racial, gender, LGBTQ, class, housing, age, and ability equality, as well as immigration reform.

Health: blogs about cancers, diseases, disabilities, and sexual health. Also included are blogs about health insurance access.

Mental Health: blogs that deal with mental illness, depression, anxiety, bipolar, eating disorders, personality disorders, behavioral disorders, serious and persistent mental illness, and other mental health topics.

Military: blogs on PTSD, trauma, disability, and other issues that military workers endure, specifically targeted toward a military audience.

Older Adults: blogs that deal with the issues of later life such as exploitation, Alzheimers and other diseases, and nursing homes.

Poverty/Resource Management/Allocation: blogs discussing the implications of poverty and homelessness, spreading awareness of poverty, or executing initiatives to help those who are hungry or provide information on where to get food.

Social Policy: blogs that discuss social policy.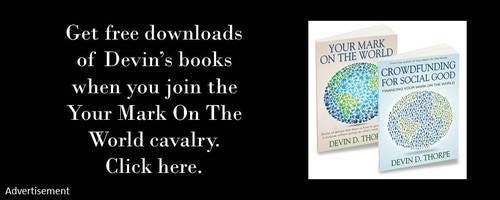 Through Inspired Advocates we want to make sure there is a place where social workers, their patients and advocates for change can find dependable resources and education on expanding their web presence.
The post Creating a Website that Encourages Others appeared first on Your Mark On The World.