Could I ask you to give $17 to cure childhood cancer for Ike's sake?
My dear friends Brian and Heidi have a three-year-old son who has been battling cancer for over two years. No family should have to go through what they've faced so bravely. Please join me in the fight to prevent childhood cancer.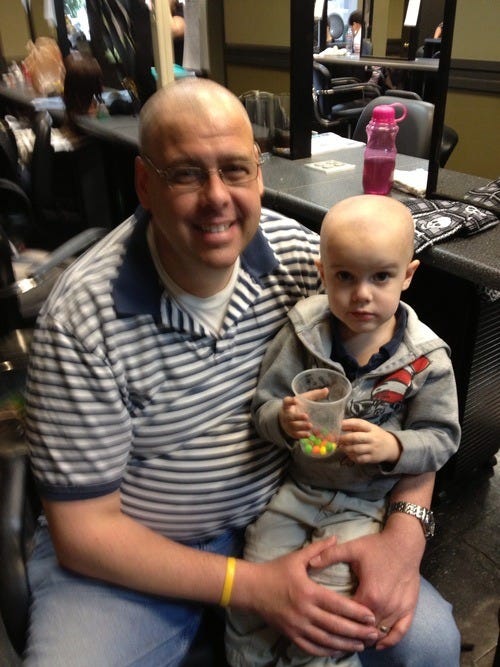 Here is Ike's story in Brian's words:
In January 2011 Israel woke one morning with a significant head tilt. After a week of various tests, an MRI revealed a tumor on his brain stem. The next day, February 1, he had surgery, and the tumor was completely removed. The biopsy showed it was anaplastic ependymoma, a rare brain cancer that forms in the lining of the ventricles of the brain.

The standard treatment when completely removed is radiation only, with 33 doses. However, because he was so young, he only received 30 doses, which is standard for children under 3. He then began regular follow-up scans to check for any regrowth.

In November 2012, during a follow-up scan, we found out that the tumor had begun to grow back in the same spot. They were able to completely remove the tumor again. After consulting with the ependymoma experts at St. Jude in Memphis, we decided to treat him with a full treatment (33 doses) of radiation plus chemo. His cancer doesn't have a great success rate with chemo (about 30%), but we are hoping that since we are just trying to kill any remaining rogue cells instead of a formed tumor the chemo will be effective.

A week before chemo was scheduled to begin, we discovered that the bone flap they cut out to remove the tumor in November had not fused back into place. He had to go in for a third surgery to repair it.

We are very lucky that he has not had any permanent side effects from any of this. In spite of all the surgeries, treatments, injections, blood draws, and every other annoyance, he continues to be a normal and incredibly happy and positive three year old. His attitude is really what is getting all of us through this.
Ike's journey is not over and thousands of kids like him face their own life-threatening fight–and every child in the world is at risk.
On June 20 and 21, for Ike's sake I'll be joining a group of "Wacky Warriors" to run the 200 mile Ragnar Relay Race from Logan to Park City, Utah to raise money to fight childhood cancer.
This is a fight we can win if we all pull together. As I'll be running about 17 miles of the 200, I'd like to invite you to donate $17 for Ike's sake. Just click here and then enter the number of dollars you'd like to donate and choose my name to identify the runner you're supporting–and remember I'm running for Ike! If you can't give $17, please give something. If you can give more–may God bless you for doing so!
Whether or not you can donate to the cause, please help us share the story by clicking the links at the bottom of the page. We're not only fighting for Ike, but for all the children who face the risk of getting cancer. Together we can do this!
The post Could I ask you to give $17 to cure childhood cancer for Ike's sake? appeared first on Your Mark On The World.