Community Foundation of Utah Offers Micro Grants at Upcoming Conference
Social entrepreneurs may now apply to pitch at the Social Enterprise and Crowdfunding Conference on September 26, 2014
SALT LAKE CITY, UT — June 2, 2014 — Nonprofit innovators and other social entrepreneurs may now register for the Social Enterprise and Crowdfunding Conference on September 26, 2014 and apply to pitch for a micro grant being offered by the Community Foundation of Utah.
Applications are being accepted online through the conference website at secfc.co/grant. Any entrepreneurial organization that is addressing a social problem whether or not it is organized as a nonprofit is eligible to apply for the opportunity to pitch to an Investment Committee at the conference.
The finalists who are invited to pitch at the conference will also participate in a one-day crowdfunding event concurrent with the conference. The pitch to the investors for the micro grants will serve as a platform to drive conference attendees to back the campaigns that have the most appeal, creating a dual opportunity for raising money.
The Foundation has committed a minimum of $1,000 to qualifying organizations. There is no strict upper limit on the number of grants or the amount of grants that may be made at the conference.
"We are focused on making investments that will drive social impact and create financially self-sustaining projects or that will help organizations to become more financially sustainable," said Fraser Nelson, Executive Director of the Foundation. "We are working to create the most innovative and financially self-sufficient community of nonprofits in the country here in Utah."
"We are thrilled to have the Community Foundation of Utah put its resources to work at our conference," said Devin Thorpe, a "champion of social good" at the Your Mark on the World Center, which is organizing the conference. "It will be a one-of-a-kind event where conference participants can actually do crowdfunding while learning how to use it to scale their impact for good."
About the Social Enterprise and Crowdfunding Conference: The Social Enterprise and Crowdfunding Conference 2014 (SECFC14) will be held September 26, 2014 at Snowbird, Utah. Expert speakers, philanthropists, venture capitals and other impact investors from across the country will join us. To register or for more information visit www.secfc.co.
About the Your Mark on the World Center: The Your Mark on the World Center champions social good by writing about, advocating for and advising those who do good in the world. Founder Devin Thorpe writes for Forbes, covering social entrepreneurship and impact investing. For more information visit www.YourMarkOnTheWorld.com.
For more information about the Community Foundation of Utah visit www.utahcf.org.
Remember to "join the cavalry" by subscribing to Devin's content here.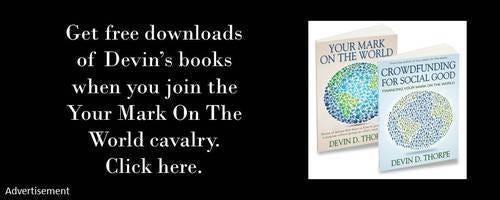 The post Community Foundation of Utah Offers Micro Grants at Upcoming Conference appeared first on GoodCrowd.info.