Chevron's 'Fuel Your School' Program Via DonorsChoose Raises Millions
This post was originally produced for Forbes.
Chevron CVX -0.67% has committed $140 million to education in the U.S. since 2010 and will top $45 million in 2014 alone, according to Brent Tippen, a spokesman for Chevron.
In a partnership with the crowdfunding-for-teachers site DonorsChoose called "Fuel Your School" over 17,000 projects at more than 3,000 schools have been funded, according to Tippen.
Commenting on Chevron's motivation, Tippen noted, "Effective STEM education – science, technology, engineering and math – is one of the most fundamental requisites to securing healthy future economic growth for the country."
"Innovative approaches are needed to help public school classrooms," he added.
DonorsChoose CEO Charles Best reported, "This back-to-school season was our best ever at DonorsChoose.org, which is great news for teachers who spend, on average, about $500 of their own money each year for classroom resources."
"Chevron is helping us reach our "big hairy audacious goal" of raising $100 million for 100% of the nation's highest poverty schools, all in one calendar year," he concluded.
Best and Tippen will join me on Thursday, November 13, 2014 at 5:00 Eastern for a live discussion about the Fuel Your School program and its impact on teachers and students. Tune in then to watch the interview live.
More about Chevron:
Chevron is one of the world's leading integrated energy companies, with subsidiaries that conduct business worldwide. The company is involved in virtually every facet of the energy industry. Chevron explores for, produces and transports crude oil and natural gas; refines, markets and distributes transportation fuels and lubricants; manufactures and sells petrochemical products; generates power and produces geothermal energy; provides energy efficiency solutions; and develops the energy resources of the future, including biofuels. Chevron is based in San Ramon, Calif. More information about Chevron is available at www.chevron.com.
More about DonorsChoose:
Founded in 2000, DonorsChoose.org makes it easy for anyone to help a classroom in need. At this nonprofit website, teachers at 62% of all the public schools in America have created project requests, and more than 1.5 million people have donated $286 million to projects that inspire them. All told, 13 million students—most from low-income communities, and many in disaster-stricken areas—have received books, art supplies, field trips, technology, and other resources that they need to learn.

Visit www.donorschoose.org/intro to hear Oprah Winfrey and Stephen Colbert tell the DonorsChoose.org story.
Brent Tippen
Tippen's bio:
Brent Tippen is a Global Public & Government Affairs Advisor and Company Spokesman for Chevron Corporation based in San Ramon, California. He serves as the Chevron Fuel Your School program manager.

A native of West Monroe, Louisiana, Brent earned his B.A. in Communications in 2004 from Louisiana Tech University and his M.A. in Communication in 2007 from the University of Louisiana. In 2007, he studied abroad for graduate school through the University of Southern Mississippi in London, UK, studying Intercultural Communication.

Before joining Chevron, Brent was a media and communications representative for a prominent U.S. Senator, a media spokesperson for the American Cancer Society, and worked with Entergy Corporation, an electric power producer. After serving in positions of increasing responsibility, in 2008, Tippen transitioned careers and now works in Policy, Government and Public Affairs for Chevron Corporation, a California-based energy company.

Brent has worked and continues to work with many service and charitable organizations in leadership positions including: Rotary International, the Public Relations Society of America, the International Association of Business Communicators, Louisiana Communication Association, active member of the Louisiana Tech University Alumni Association as well as the University of Louisiana, Monroe Alumni Association. In 2013 he was named "Young Alumnus of the Year" at Louisiana Tech University.

At Chevron Corporation, Brent serves as a Global Public and Government Affairs Advisor and company spokesman on a large portfolio focusing on Downstream and Chemicals and has previously included corporate issues / community engagement / corporate social responsibility. He also currently manages Chevron's Fuel Your School program operating in 22 U.S. markets as well as Canada, Thailand, Malaysia, Singapore, the Philippines and New Zealand. Brent brings a broad knowledge base both in the nonprofit and political realms with a strong background in communication and media relations.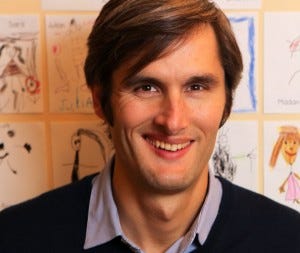 Charles Best
Best's bio:
Charles Best leads DonorsChoose.org, a nonprofit organization that provides a simple way to address educational inequity. At DonorsChoose.org, public school teachers create classroom project requests and donors can choose the projects they want to support. Charles launched the organization in 2000 out of a Bronx public high school where he taught history. DonorsChoose.org is one of Oprah Winfrey's "ultimate favorite things" and was featured on the cover of Fast Company as one of the "50 Most Innovative Companies in the World." For three years, Fortune Magazine has named Charles to its "40 under 40 hottest rising stars in business."
Remember to "join the cavalry" by subscribing to our content here.
The post Chevron's 'Fuel Your School' Program Via DonorsChoose Raises Millions appeared first on GoodCrowd.info.