Can Your Coffee Save The World?
Thrive Coffee is working to change the world by helping peasant farmers growing coffee to participate in the ownership of the distribution channel, allowing them to share in the wealth they create.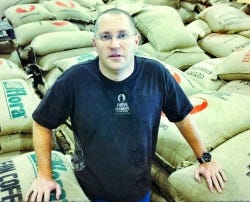 Founder and CEO Michael Jones will join me on Friday, January 24 at 5:00 Eastern for a live discussion about their revolutionary work.
Tune in and listen while you work.
Michael's bio:
After exiting a healthcare services company in January of 2011 that he had started ten years prior, Michael had planned to spend some long-needed time with his family while deciding what his next course in business would be. It was during this time that he was revisiting a conversation with his father-in-law, a long-time Blue Mountain coffee farmer in Jamaica, about the severe disadvantages in the value chain of coffee, that ultimately led to the creation of THRIVE Farmers – an innovative platform to change the world of coffee and align the interests of producers and consumers for the first time.

Michael is the quintessential entrepreneur, having founded and operated several privately held companies. He has managed high growth companies and has been successful in building significant market value for shareholders. Most recently, Michael founded Implantable Provider Group (IPG), a provider of market-based medical implant solutions that is delivered to payors, manufacturers, providers and patients. In his role as President/COO, Michael was named one of Atlanta's top 25 entrepreneurs by Catalyst Magazine in 2008 (#4). Jones was selected because of his role in founding IPG and turning it into one of the country's fastest-growing businesses. In 2008, Inc. Magazine ranked IPG as the sixth-fastest growing healthcare company in the country (1,500% three year growth rate) and the 138th fastest-growing overall. FORBES Magazine recently ranked IPG at #5 in its list of 100 Most Promising Companies in America.

Michael has been instrumental in raising capital from high profile private equity firms including Sequoia Capital, arguably the most revered venture capital firm in recent history due to its investments in Apple, Atari, Oracle, Cisco, Yahoo, Paypal, Google and others, who invested in IPG in early 2010. Michael's background prior to IPG includes an early career in the financial services industry in corporate finance. He then segued into healthcare in the mid 90's pursuing two other ventures.

Michael is married to Sharon, and they have three boys. They enjoy travel, cooking, and snow skiing.
The post Can Your Coffee Save The World? appeared first on Your Mark On The World.