Thursday August 02, 2012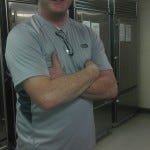 Bob Chilton recently moved to a beautiful new condo in downtown Salt Lake City, specifically to be close to the homeless shelter, The Road Home. You see Bob volunteers here several days a week to help serving meals. Fortunate to work from home with a flexible schedule, Bob can pop over to the shelter to serve breakfast, put in a full day back in his home office and then pop back over to serve dinner. Bob is leaving his mark on the world!
The post appeared first on Your Mark On The World.