BanQu Invites Billions to Join 21st Century
You can download an audio podcast here or subscribe via iTunes.
Imagine life for a moment without an economic identity, without credit, without a bank account, without access to the financial system. What would life be like if you were limited to cash or barter transactions?
It might be a bit like living in the dark ages with a window to the 21st century. You could see a life that others were living that is nothing like your own, like seeing a Toyota truck go by without ever conceiving of owning one.
Providing people with an economic identity sufficiently strong for storing money efficiently and conducting trade isn't the solution to all the problems the world's poorest people face, but it is a piece of the puzzle that could allow them to join us in the 21st century.
BanQu is a startup that is working on just this problem.
Founder Ashish Gadnis says, "There are 60 million refugees and over 2 billion people in extreme poverty. Most of them are without an economic identity. This holds them back and keeps them in camps and suffering."
BanQu has harnessed the technology underlying Bitcoin to provide digital economic identities to people who don't have them. "We have created the first ever economic identity on the blockchain for these people in way that allows them to rebuild their lives using key life transactions such as land, education, micro-loans etc," Ashish says.
Entrepreneurs face real challenges in scaling a new venture. These can be increased in the developing world. Ashish notes that perceptions are one of the problems he has to deal with. "Key challenges are changing the perception that refugees and extremely poor people are 'beneficiaries' to 'customers that deserve equal dignity and opportunities.'"
Ashish Gadnis with some "customers that deserve equal dignity and opportunities," courtesy of BanQu.
BanQu faces a big challenge. Ashish estimates that there are at least 2 billion people who need an economic identity. That just makes the potential victory sweeter for him.
"Our success will enable refugees to break the stigma of being a refugees. Our success will empower people in extreme poverty to become economically resilient because they own their identity," he concludes.
On Thursday, June 16, 2016 at noon Eastern, Ashish will join me here for a live discussion about the new technology that he hopes will open the door to opportunity for billions of people. Tune in here then to watch the interview live. Post questions in the comments below or tweet questions before the interview to @devindthorpe.
More about BanQu:
Twitter: @banquapp

BanQu is the first ever blockchain Economic Identity technology (patent pending) platform and network that enables a secure and immutable platform for creating economic opportunities for people around the world who are refugees and living in extreme poverty. This Economic Identity then can be augmented by critical pieces of information such as land rights, voter registration, relationship based credit profiles and health records etc. While the uses cases are infinite, BanQu is focused on solutions in the three areas of :

Refugee crisis

Food / medical / payroll distribution in conflict zones

Increasing revenue streams for social enterprises via diaspora capital participation and compliance based remittance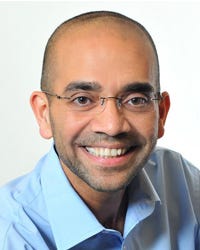 Ashish Gadnish, courtesy of BanQu
Ashish's bio:
Founding member of Asili (a for-profit business in Eastern Congo), serial entrepreneur and applications developer. Ashish has developed and deployed mobile systems across the globe. His last startup was acquired by multi-billion dollar global firm. MBA from Carlson School, Exec. Educ. from Harvard Kennedy School & WEF – Young Global Leader.
Remember to "join the cavalry" by subscribing to our content here.
The post BanQu Invites Billions to Join 21st Century appeared first on Your Mark On The World.