Award Winner Empowers World's Poorest Laborers
One of the highlights at this year's SOCAP was the presentation of the Gratitude Awards from the Gratitude Network; Labor Link from Good World Solutions won the Community Development Award.
Heather Franzese, Executive Director of Good World Solutions, explains the underpinnings of Labor Link, "There are nearly 7 billion mobile subscriptions globally. That's nearly one for every person on the planet. Bangladesh has only 8% internet penetration and 70% mobile penetration, so the most vulnerable workers are not online. Labor Link is trying to reach them directly through their phones, or the phone of a friend or family member."
Key employment opportunities in the developing world can be hazardous. "Manufacturing contributes 15% of economic output in India and 31% in China. What are conditions like for those workers? With mobile, now we can ask them directly," adds Heather.
"Workers trust Labor Link more than in-person interviews for sensitive information on topics like sexual harassment, unpaid wages, and locked exits that prevent them from leaving the factory," she concludes.
On Thursday, October 23, 2014 at 7:00 PM Eastern, Heather will join me here for a live discussion about her inspiring work. Tune in here then to watch the interview live.
You can download an audio podcast here or subscribe via iTunes.
More about Good World Solutions:
Good World Solutions, the nonprofit social enterprise behind Labor Link, develops innovative technology solutions to serve millions of vulnerable workers, farmers and artisans in global supply chains. The award-winning Labor Link platform aims to give voice to 1 million workers by 2018 and has been recognized by Ethical Corporation's Responsible Business Awards, Ashoka Changemakers, GSMA Global Mobile Awards, the Global Social Benefit Institute at Santa Clara University's Center for Science, Technology, and Society, and the Gratitude Network. By increasing transparency in global supply chains, Good World Solutions drives systemic change in company buying practices and catalyzes economic empowerment for the people that make popular consumer products.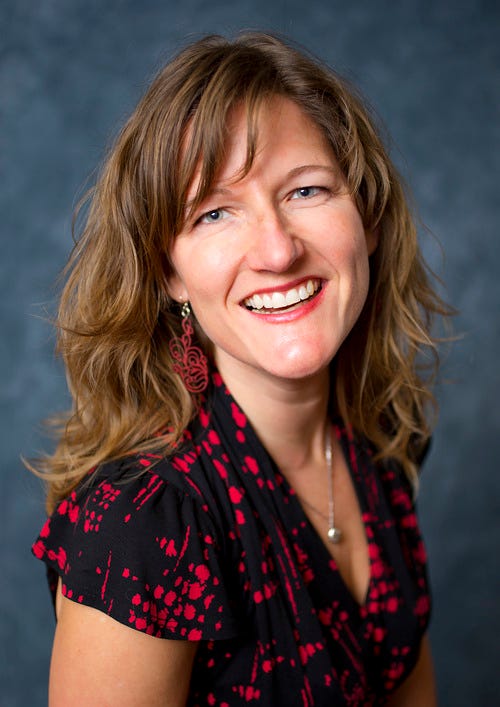 Heather's bio:
A Purpose Economy 100 (PE100) global changemaker, Heather Franzese has been working for 15 years to improve the lives of vulnerable workers in global supply chains. She leads Good World Solutions, an award-winning social enterprise that leverages mobile technology to connect workers to the companies that buy their products. Since 2010, the organization's Labor Link platform has reached over 130,000 workers, farmers and artisans in 16 countries, including China, India, Bangladesh and Brazil.

Previously, Heather launched the Fair Trade Certified Apparel & Linens program in the US, a new way for consumers to vote with their dollars for an alternative to sweatshops. Heather brings together industry experience managing CSR for Columbia Sportswear Company's licensed and collegiate categories, a fundraising track record of $4 million in social impact philanthropy, and field experience working with small-scale farmers in Peace Corps Mali. She sits on Etsy's Manufacturing Advisory Board and holds a Masters in Economic Development from Harvard Kennedy School.
Remember to "join the cavalry"by subscribing to Devin's content here.
The post Award Winner Empowers World's Poorest Laborers appeared first on Your Mark On The World.