Award Winner Converts Farmland To Organic
The Social Venture Network recently recognized four social entrepreneurs with its annual Innovation Awards. Your Mark on the World will profile each of the four in the coming weeks.
Craig Wichner doesn't mince words, "The current agricultural system in the US is like the dead parrot from the Monty Python skit: It's obviously not working. That big ag practices are causing social and environmental harm is well known, yet we continue to plow money into it anyway. It's time for a new model."
Craig is the cofounder and Managing Director of Farmland LP, one of the four companies winning the SVN Innovation Awards. Farmland LP buys conventional farmland and converts it to organic farmland. In the process, the company says, the land becomes more productive and therefore more profitable–to say nothing of being better for people and planet.
Craig explains the opportunity this way, "Sustainable agriculture is a team sport: What the soil needs in terms of biological diversity to remain healthy is well matched to a multi-tenant real estate model with investor appeal. This is the innovation that will allow organic to scale."
"Farmland, at $2.4 trillion is as large as other classes of commercial real estate and has only 1% institutional ownership. It's ripe for disruption," he adds.
On October 9, 2014 at 3:00 Eastern, Craig will join me for a live discussion about his work and the award. Tune in here then to watch the interview live.
You can download an audio podcast here or subscribe via iTunes.
More about Farmland LP:
Farmland LP acquires conventional farmland and adds value to it by converting it to certified organic farmland. Our sustainable land management system of rotating crop and pasture works with nature and farmers to make land more productive, yielding better long-term returns for investors while doing what's best for people and the environment. In fact, scientific studies prove that organic farmland is more profitable than conventional farmland because of higher yields and less overhead. Our real estate model makes high quality farmland accessible to farmers, increasing the capacity for locally grown, sustainably produced organic food.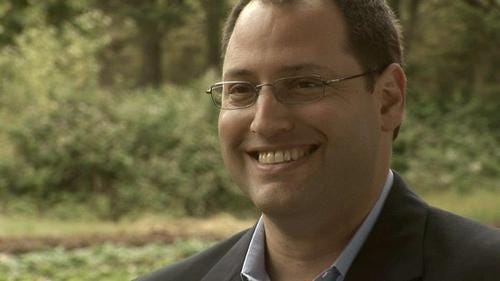 Craig's bio:
Mr. Wichner directs Farmland LP's investment program, overseeing property acquisitions, leases and sales, and manages the business affairs of VF Holdings and its sponsored funds. A seasoned executive with 25 years of experience building companies and managing his family's real estate portfolio, Mr. Wichner steers the business strategy for Farmland LP, named a 2014 "World's 50 Most Innovative Companies" by Fast Company magazine. Mr. Wichner's previous experience includes being part of the start-up team of Depotech, which developed and currently produces an FDA-approved treatment for metastatic brain cancer (now part of Sigma-Tau Therapeutic), and CEO of Kindmark which developed and sold automated employee charitable contribution programs for Fortune 500 Companies such as GM, EDS and Charles Schwab. Mr. Wichner received a Bachelor of Science in Biochemistry and Molecular Biology, with a minor in Economics, from the University of California, San Diego, in 1992, earning Provost's Honors and performing graduate-level research on HIV/AIDS as an undergraduate. Mr. Wichner is also a co-founder and Managing Director of Vitality Farms and serves on the board of BN Ranch, Bill Niman's successor company to Niman Ranch, Inc. As a child, Mr. Wichner spent summers farm, where he milked cows and tended crops, chickens and horses, wrangled cattle and built two barns.
Remember to "join the cavalry" by subscribing to Devin's content here.
The post Award Winner Converts Farmland To Organic appeared first on Your Mark On The World.