Anyone Can Volunteer; Everyone Makes A Difference
Today, as I was working alongside my Rotary friends volunteering here in Puerto Peñasco, Mexico, I realized that volunteers come in all shapes and sizes.
Rotary volunteers come in all shapes and sizes.
On the one hand, I was not surprised that the woman with the Harley Davidson t-shirt knew her way around power tools. She puts in a full eight hour volunteer shift every day and never slacks off.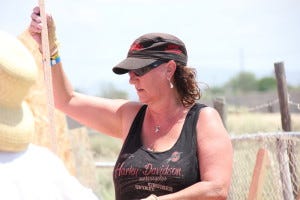 Volunteer who engages day after day with skill and energy
On the other hand, I was was somewhat more surprised that the lawyer in the group, Russ Ferricks, was equally comfortable with tools and works just as hard. Today, he took charge of roofing the small piñata factory where our Rotary Club has been leading the project. Despite thinking that I knew his character and desire to serve, I was surprised at the energy and determination he showed for the technical and physically challenging aspects of the work.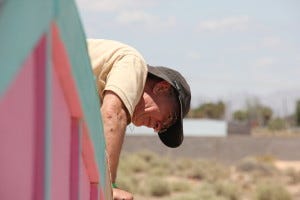 Russ Ferricks, attorney who led roofing effort
As I migrated from project to project, functioning typically as a unskilled labor, I had the opportunity to spend several hours working side-by-side with one of the wealthier members of our club, Floyd Hatch. His $16.8 million ranch is currently up for sale–I suspect he's looking to upgrade. Now in his sixties, he, too, gets down and dirty in the work. As the President Elect for the Club and the formal head of the project, he hasn't organized himself as the leader, instead he delegated that responsibility to an experienced contractor and jumps in to help wherever needed.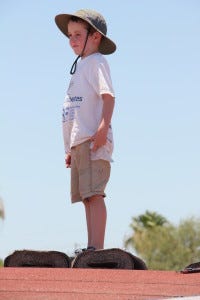 Luke Hatch, one of the youngest volunteers
The volunteer pool today ranged in age from about 5 to about 65. In fairness, our youngest volunteers were easily distracted and weren't always on task, but they were fun to have around. The volunteers from the local community, participated as equals. I loved watching two volunteers on the roof carrying on a complete conversation, one speaking English exclusively and the other speaking Spanish exclusively, with some gesticulation thrown in for added clarity.
Today's lesson: anyone can volunteer and everyone makes a difference!
The post Anyone Can Volunteer; Everyone Makes A Difference appeared first on Your Mark On The World.