Advertising Private Offerings: Oxymoron? Successful? Yes and Yes
This post was originally produced for Forbes.
The Prodigy Network, led by Rodrigo Nino, is a real estate crowdfunding site that has already raised hundreds of millions of dollars. Since Title II of the JOBS Act was implemented one year ago on September 23, 2013, much of the money the company has raised in the U.S. has been under these new rules.
Title II of the JOBS Act allows "General Solicitation," that is advertising, of private offerings with certain restrictions, most notably that the actual sale of securities under such an offering be limited exclusively to accredited investors. The Securities and Exchange Commission rules under Regulation D, 506c limit define the conduct of a general solicitation for a private offering. Best practices in the industry are still developing.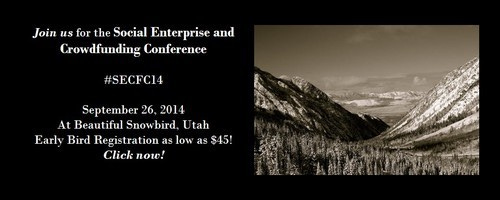 On Thursday, September 18, 2014 at 4:00 Eastern, Nino will join me for a live discussion about the effect of the rules on private capital markets in the U.S. Tune in here to watch the interview live.
[At the time of the interview, I will insert a video player here. Bookmark this page and come back then to watch the interview live. Replays will be available here thereafter.]
More about Prodigy Network:
Founded in 2003, Prodigy Network specializes in connecting its network of accredited investors with opportunities to participate in prime commercial real estate in Manhattan. With its proven crowdfunding model and use of a third-party fund administrator, Prodigy Network has shifted real estate investment opportunities and returns – that once were solely accessible to large investors – to smaller accredited investors. As the leader of the world's largest crowdfunded skyscraper BD Bacata, Prodigy Network has raised more than $300 million from 6,200 investors globally with a projected value of over $850 million. Prodigy Network is headquartered in New York City.
Nino's bio:
Rodrigo Nino, CEO and founder of Prodigy Network, is revolutionizing both the real estate and crowdfunding industries by being the first to meld the two worlds.

Nino developed a crowdfunding model as a safe and innovative way of giving smaller investors access to large real estate assets. The model is known for encompassing a third party fiduciary company to ensure full disclosure and added transparency to each project. With this model, Prodigy Network has raised a total of $68 million dollars in equity from investors in 12 states and 10 countries for projects in the United States. Since inception, they have raised $300 million to date for projects in the United States and Latin America.

The first project in New York, AKA Wall Street, is a $90 million project in Manhattan under the Reg-S exemption for foreign nationals. Nino pioneered crowdfunding in the U.S. with investors from over six different countries. His second project, 17 John, was purchased for $85.3 million and raised $25 million in crowdfunded equity. The extended stay hotel in lower Manhattan, upon completion, will stand 23 stories high and will have 191 furnished units. 17John was the first crowddesigned concept hosted by the Prodigy Design Lab. A third project, closing in the fall of 2014 will be an extended stay located in the heart of Manhattan.

With Nino's direction, Prodigy Network leads a range of impressive crowdfunding projects in Colombia worth over $250 million including BD Bacata, Bacata Express, Aeropuerto Business Hub and Bogota Art District. My Ideal City, is an initiative sponsored by the project BD Bacata in Bogotá, the first skyscraper in Colombia. My Ideal City is an urban planning model that allows people to engage in a conversation with world-class experts on the future of the city thanks to a technology platform and social networks.

With 15 years of seasoned experience in real estate, Nino is often featured in leading publications, including The Wall Street Journal, Businessweek, Forbes, The Economist, The New York Times, Fast Company and Mashable. Also a distinguished speaker, he has spoken at worldwide conferences and was a noteworthy guest at the PSFK Conference, Harvard University and the AEDES gallery in Berlin.

Nino, a Colombian native and a Manhattan resident, has created and proven Prodigy Network's crowdfunding model to deliver international real estate opportunities to accredited investors to access returns previously unattainable by most.
Remember to "join the cavalry" by subscribing to Devin's content here.
The post Advertising Private Offerings: Oxymoron? Successful? Yes and Yes appeared first on Your Mark On The World.