A Clarion Call for Nutritious Children's Entertainment
Guest post from Dave Room and Aaron Ableman of Pacha's Pajamas.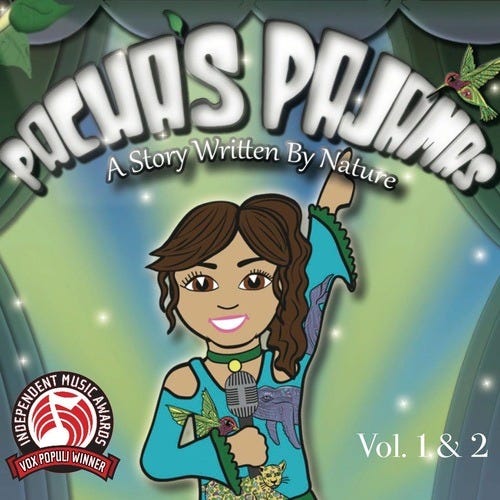 In a Mount Sinai's Kravis Children's Hospital in upper Manhattan, a 6 year old cancer patient named Jonah joined the Pacha's Pajamas musical to sing the chorus of our new song We Are All Connected. Hooked up to an IV, yet his voice sailed through the room like an angel from the heavens. Perhaps it was the message that called him to transcend his conditions. Perhaps it was the fact that we were performing as rapping mushrooms, singing gorillas and break dancing jaguars. Perhaps it was music being a clarion call that uplifts our hearts and minds.
Obviously, one doesn't have to be in a hospital to enjoy the power of uplifting entertainment. At BALANCE, we've heard hundreds of testimonials from parents, teachers, and children themselves about the inspiration they experience through our productions. That's why we wake up early and go to bed late! Every day we create award-winning products and experiences for children and families. We intend to anchor "transformational children's entertainment" as an important genre for an industry that desperately needs more uplifting mythologies! It's all about supporting the healthy development of today's children by inspiring children to discover themselves, who they are in the world, and how they will create the world they want to live in!
But let's zoom out for a minute to consider the modern child's entertainment diet. For the first time ever, today's children are growing up as digital natives with unprecedented access to digital media through an ever increasing variety of devices. Children now average seven hours of screen time per day. Most of what they are viewing is vapid, if not violent, misogynistic, sexualizing childhood or promoting drug use. Unfortunately, the last decade has seen dramatic shift in children's values towards fame, popularity, image, and money. Yet today's parents are finding it virtually impossible to limit or curate their child's access to unhealthy media. And parents are increasingly frustrated with the lack of age-appropriate and culturally relevant children's entertainment options that convey basic values which we they hold dear.
Through a constellation of compelling characters and award-winning stories with socially responsible themes, we are helping catalyze demand for pop culture that is both nutritious and delicious. Our nutritious children's entertainment is designed to both delight and instruct, enabling children to learn while having fun, which is highly fulfilling and effective. We are raising consciousness, encouraging creativity, and teaching effective mental habits, all through stories, music and dance! And if we are successful, we will see a new generation who, just like Jonah in the hospital, are better able to successfully navigate the struggles and triumphs of their world.
For an opportunity for your child to be in a music video with kids around the world, visit http://connected.pachaspajamas.com.
To find out about how you can get a FREE download of We Are All Connected, save 30% using code NUTRITIOUS, and/or support the movement for nutritious children's entertainment, please visit the Pacha' Pajamas site.
The post A Clarion Call for Nutritious Children's Entertainment appeared first on Your Mark On The World.