8 Lessons That May Change The Way You Think About Summer Vacation
This post was originally produced for Forbes.
Last week, I took my wife to a small resort town called Puerto Peñasco or Rocky Point at the north end of the Gulf of California or Sea of Cortez in Mexico. Before this year, I'd never heard of this place and had frankly never been curious about it. We weren't there to relax on the beach sipping umbrella drinks. Instead, we were there with 750 other people affiliated with Rotary Clubs in Utah to spend a week doing service and holding a conference.
The planning and execution of the 55 service projects completed last week was 100 percent volunteer. It is difficult even to communicate the scope of what was accomplished; I'm sure that despite being there and seeking to learn all that went on during the week, I can't begin to report on all that was done.
Here's a quick sampling of what we did:
Built three two bedroom, two bath homes from the stage of empty pads to having all of the block walls constructed and roofs installed.

Finished and decorated four other homes that had been similarly constructed last December

Expanded a piñata factory that employs young people with a wide range of disabilities, from blindness to cerebral palsy

Worked with those employees to build 200 piñatas that were then sold to the volunteers to help fund the programs at the piñata factory

Organized a pop-up dental office for people who can't afford dental care; treated 293 people in four days

Equipped a dialysis clinic, the first and only one in this part of Mexico

Donated an ambulance to the dialysis clinic

Landscaped the dialysis clinic to reduce dust and improve air quality inside the clinic to maintain a sanitary environment

Replaced a secondary school typing lab with a computer lab with 65 iMac computers, networked them, obtained internet access and set up a projector for instruction

Created a library for an elementary school

Set up a learning lab in the elementary school with 30 tablet computers, a hub, charging station and internet access for one year

Painted and fenced an elementary school

Donated two buses

Donated 1,500 pairs of glasses, including 800 pairs of sunglasses to people who work outside all day, including construction workers, oyster farmers and fisherfolk.

Provided dresses to over 100 little school girls

Refurbished 50 school desks

Donated 200 toy cars to students, one of whom reportedly asked, with tears in his eyes, "Did we get these because we were good?"
Utah Rotarians and their families and friend build one of three homes in Puerto Peñasco
The event was led by Michael Wells, a dentist from Tooele, Utah who serves as the volunteer "District Governor" for the Rotary District that encompasses Utah. Wells said repeatedly in the days leading up to the event, "I get chills just thinking about it." Clearly, his passion was vital in creating an unprecedented district event.
Jerry Summerhays, a past district governor, was charged with organizing the service projects. He made several trips to Puerto Peñasco in preparation for the big week—all on his own dime. After the event, he noted, "The many project sites were picked because of needs identified by Puerto Penasco Rotarians. Each of the project sites was delegated to a club or family. The needs were so overwhelming that we know how much good we did. What was more than expected was the satisfaction, the emotion expressed by those performing the service. Whether eight years old or 18, or 80 those performing the service felt like they owned their project, and were so delighted."
Floyd Hatch is the President Elect for the Salt Lake Club; he was tasked with organizing the construction of the piñata factory expansion. He recruited his children and grandchildren along with other members of the club to help with the project.
Chris Hatch, Floyd Hatch, Ryan Wathan, Russ Ferricks and Gary Yocum work on the roof of the piñata factory
Hatch said, "I still cannot believe our progress. In 4 short days, we doubled the floor space of the factory, roofed it with a much better roof that its existing [roof], rolled out insulation, and initiated dry wall. One of my daughters [Courtney Hatch], a high school art teacher chose colors that I wouldn't dream of and we painted the structure pink with turquoise highlights. It stands out, even in Mexico!"
"We left behind additional drywall, interior painting, electrical, and flooring, but we gave those beautiful kids and young adults a place to go and be creative while they earn some money on their own. What a feeling we had as a bunch of professionals left that little structure for the last time. We did it! We took what seemed like an enormous challenge and finished it on time," Hatch concluded.
Marcus Wathen, the general contractor who was recruited to volunteer to lead the piñata factory construction project, explained how he felt after completing the project, "What I enjoyed most about helping with the project was letting others have a hands on experience and in some cases doing a lot of different skills for the first time and working outside their comfort zone. Like when Courtney said she didn't know how to drill the bottom plate and when the last hole was drilled, she was wanting to drill more. And when I measured for the roof sheeting and sent the measurement down for Russ to cut the plywood. Then, the next day, Russ was doing the measuring on the other side of the roof and you and Floyd were the masters of the saw. Seriously, we all contributed our own talents, sweat, leadership and time to build something that will benefit others."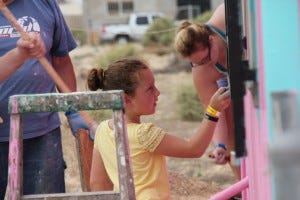 A wide range of volunteers served in Puerto Peñasco.
There are eight lessons I learned or was reminded of last week as I participated in this effort. Here they are:
A rising tide doesn't lift all the boats. Puerto Peñasco is a rapidly growing tourist destination with massive construction projects underway. There is a lot of investment money being poured into that economy. That said, when Rotarians began looking for people to serve, the needs were "overwhelming."

Anyone can volunteer. The volunteers in Puerto Peñasco ranged in age from the youngest children who can swing a hammer, paint a wall or life a brick to the oldest willing to make piñatas. If you want to volunteer, you can find something that you can do and almost certainly you can find something you'll enjoy doing.

Everyone makes a difference. It is easy to believe that you can't make a difference with a few hours or a few days. If you believe that, you're wrong. After seeing what can be done in just a few days, I will never again doubt the value of a small contribution of time. You do make a difference; your time does matter to those you serve.

There is real power in being a follower. Lots of type A people like me feel like they need to be the leader in order to make a difference. What I saw in Mexico was the value of 750 people working together. Given the number of projects, about 55, that were separately organized, there were a lot of leaders in the group. That said, without the help of the followers the work could not have been accomplished. To those who are tempted to create a new organization to deploy volunteers, let me suggest instead that you join a service organization like Rotary or the Lions Club or a faith based group where volunteers stand at the ready today. You'll get more done!

You only need to collaborate if you want to have impact. One of the biggest projects undertaken last week was the construction of homes. As noted above, we built three and finished four. This work was completed in partnership with Families Helping Families, a Utah-based nonprofit that has been building homes in Puerto Peñasco for 10 years. The founder, Jared Parker, notes, "I read a great book a while back by Paul Godfrey titled "More than Money". He talked a lot about how to help those in need. One thing his book addressed is, poverty is a systemic problem. And it takes an entire system to solve it. One person or one foundation is not enough. It takes complementing groups, forming partnerships, to really make a difference. Rotary and FHFMexico make excellent partners. Especially with the Interactors and Rotaractors. There is no way that either of our groups could accomplish independently, or alone, a fraction of what they can accomplish together. We are on the ground in Mexico. We have done the necessary legal work and created the proper entities to maximize their donations and man power. We magnify each other's entities and efforts. And we will be there long after the volunteers are on their way home."

Ask volunteers to do something that matters. Last year, the District had about 150 people attend its annual conference held in Logan, Utah near the Idaho border. It is difficult to conceive that five times as many people would be willing to go to Mexico for a week to do volunteer work, given that the trip would be about five times as costly for each person, but that's what happened. Ask people to attend yet another conference and those most committed to the organization will go. Ask people to do something that matters and in droves they will travel via planes, trains and automobiles to break their backs in the Mexican desert.

"If you're not having fun, you're doing it wrong." District Governor Wells repeated that like a mantra throughout his tenure. Everyone lived it last week. Volunteers worked most of the day and then relaxed and partied in the evenings. At the end of the week, we all came together for a conference that was more celebration than education. Creating the right balance of work and play is imperative for mobilizing your volunteers.

Dream big. If I hadn't been there myself, I'm not sure I would believe all that was accomplished. This scale of impact in a single week by Utah Rotary is unprecedented. We've never done this before. Imagine the audacity of a leader who says, I know we only had 150 people at our conference last year, but what if we planned a week-long event for 750 people across a national border almost 1,000 miles from the northern reaches of our state? No one really believed this would work, but they wanted it to work. There is magic and power in a vision that people want to see achieved.
The post 8 Lessons That May Change The Way You Think About Summer Vacation appeared first on Your Mark On The World.